Season two of The Afterparty has more murder, mayhem, and hilarious antics. Throughout the first season, we learned about Detective Danner and her methodical approach to questioning suspects. The Afterparty's unique style and the concept of giving each character their own genre will stay with you. Aniq Adjaye, the main suspect, put his experience in creating escape rooms to use by solving the murder of Xavier (Dave Franco), a prominent pop sensation and a former classmate of his.
The Afterparty returns for a second season. The crime comedy, which stars Sam Richardson and Zoë Chao as Aniq and Zoë, respectively, tops the first and promises even more surprises. Once again, Aniq and Detective Danner (Tiffany Haddish) team up to solve a murder mystery, and this time it concerns his potential new relatives. After the ten-year high school reunion, where did Aniq and Zoë go? To get everything you need to know about 'The Afterparty' Season 2 premiere episodes, continue reading at tvacute.com.
'The Afterparty' Season 2 Premiere Episodes Recap
In this episode, we witnessed a series of captivating events unfold. Aniq and Zoë continue their relationship after the high school reunion. Aniq, however, falls flat when he meets Zoë's family at her sister's wedding. Instead, Sebastian, Zoë's groom's business partner, grabs their interest. Despite this setback, Aniq discovers the groom, Edgar (Zach Woods), as a potential ally who is eager to assist him in winning over Zoë's parents Feng and Vivian (Ken Jeong and Vivian Wu).
Edgar is discovered dead after a night of fights and odd behavior, which sets off the murder mystery. Due to their relationship and the fact that Grace (Poppy Liu) found Edgar's body, she is now the main suspect in the case. Isabel (Elizabeth Perkins), Edgar's mother, despises Grace and claims that she committed the crime. Detective Danner responds to Aniq's appeal for assistance and shows up to look into the matter.
As he remembers seeing disputes between Grace and Edgar, Edgar walking out on her during their first dance, and Grace putting drugs in Edgar's drink, Aniq begins to doubt Grace's innocence. Even while Aniq doesn't think Grace is the murderer, these facts make him suspect.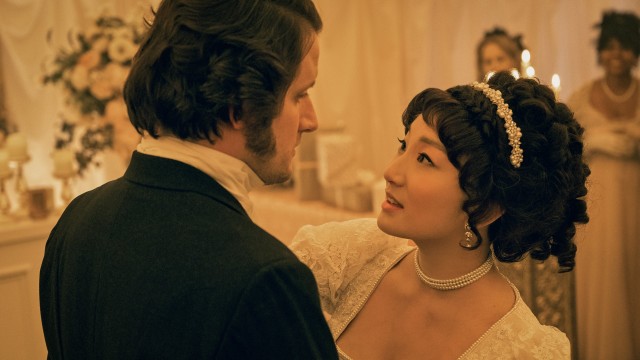 Grace considers her relationship with Edgar while understanding that he frequently missed events because of work. After Zoë raises questions about their compatibility and Grace's romanticization of their connection, Grace's skepticism grows. Grace begins to regret marrying Edgar, especially when she encounters an unromantic prenuptial agreement.
Grace makes the decision to address her doubts during the wedding and expresses them during the vows. She still feels abandoned when Edgar leaves suddenly during their first dance, despite Edgar's protestations to the contrary. Grace grinds the Adderall and puts some of it in Edgar's drink in an effort to get him to stay with her longer. However, he becomes quite drunk and starts acting erratically before eventually falling asleep. When Grace awakens, he is lying dead next to her.
Grace insists she only used Adderall, despite the fact that she had access to Edgar's drink and could have poisoned him. Isabel, who ingested a blue pill from the Adderall package, is the source of the proof. What Grace pulverized and poured into the drink is still a mystery as to its exact composition.
Additionally, Travis, Grace's ex-boyfriend who might be aware of Edgar's business, and Sebastian, Edgar's business partner who might have had financial motivations, are suspects. Grace may not be concealing anything, as evidenced by her candor with her conflicts and the fact that she did not sign the prenuptial agreement, but it is impossible to rule out the possibility. Aniq, Grace, and the others are caught in a web of mistrust and deceit as the truth about Edgar's death and the killer's identity continues to emerge.