Thanksgiving (2023) by Eli Roth is a bloody holiday extravaganza that embraces its gory excess and offers a novel and nauseating perspective on the horror genre. Originating from a fictitious trailer made for Grindhouse in 2007, the film deftly and stylishly turns the idea of a masked serial murderer haunting Plymouth, Massachusetts over Thanksgiving into a full-length picture. It follows Jessica (Nell Verlaque), the daughter of a shopkeeper, as she becomes enmeshed in the tragic events of her family's past. The store manager, Gina Gershon, the spouse of Mitch, dies in the chaotic and violent Black Friday melee. The town is traumatized by the horrific event, and Jessica, who contributed to the fatal night by letting friends inside the business early, struggles with guilt.  tvacute delves into Who Is the Real Killer in Thanksgiving (2023) Movie?
Where was Slasher Movie "Thanksgiving" (2023) Filmed?
Thanksgiving (2023) Movie Story
The opening scene establishes the mood by fusing actual and metaphorical carnage as Right Mart, the neighborhood large box retailer, opens early on Black Friday. A rowdy mob demanding free waffle irons is the result of the proprietor Thomas Wright (Rick Hoffman) and his new wife Kathleen (Karen Cliche) making a choice driven by avarice. As a group of teenagers, led by Jessica, Thomas' daughter (Nell Verlaque), break over the barrier and teases the insane consumers outside, the tension grows. The horrific event plays out, with a security guard being run over and severe injuries sustained during the buying frenzy.
The aftermath of the atrocity is still felt a year later, but things seem to be getting back to normal. But a new threat appears a murderer dressed in a tacky John Carver mask who is out to get revenge on everyone connected to the Right Mart craziness. Jessica and her friends are the main targets, which sets the stage for a string of gory and masterfully carried-out killings.
The unnamed killer, "John Carver," appears from the shadows, wearing a mask evocative of horror movie classics like Ghostface's. Carver embarks on a brutal expedition to find everyone associated with the Black Friday incident. His go-to weapon? A lethal axe that comes to symbolize the approaching fear.
Carver uses social media as an instrument of horror as he starts his gruesome rampage. The film makes use of the connectedness of today's world to depict how a disguised murderer uses the internet to spread the word about his horrible deeds. As the town's sheriff, Newlon (Patrick Dempsey), becomes more involved in the investigation and emphasizes the need to save the Thanksgiving institution, the tension increases.
With the deft transformation of Thanksgiving into a murder mystery, viewers are left wondering about Carver's identity and motivation. Carver's social media posts specifically mention seeking revenge for something that was taken from him during the Black Friday violence, which heightens the suspense. With Jessica's current lover Ryan (Milo Manheim) and ex-boyfriend Bobby (Jalen Thomas Brooks) both coming under investigation, the audience is taken on an exciting trip of suspicion.
When Carver plans a startling attack during a Thanksgiving Day parade, the scheme becomes even more intricate. Jessica and her friends are taken prisoner and made to participate in a Thanksgiving feast that is being streamed live, which heightens the terror with a twisted sense of comedy. The film expertly combines dark comedy and gory death scenes to create a singular and unforgettable experience.
Is John Carver Based on a Real Serial Killer?
Thanksgiving (2023) Movie: Who Is the Killer? Behind the Mask?
When Carver plans a startling attack at a Thanksgiving Day parade, the tension reaches a fever pitch. A live-streamed Thanksgiving feast entangles Jessica and her friends, fusing dark humor and horrific horror. Carver uses the parade as a platform for his theatrical brand of fear, which horrifies and intrigues the audience.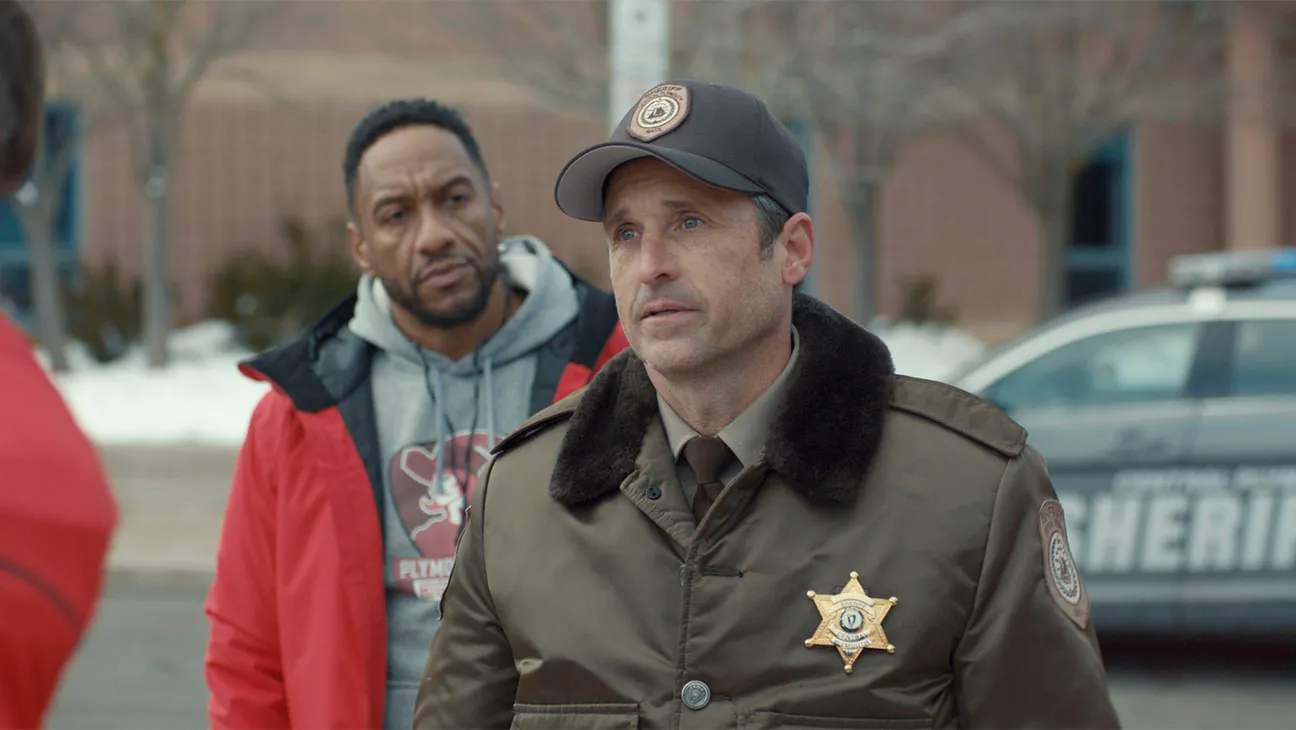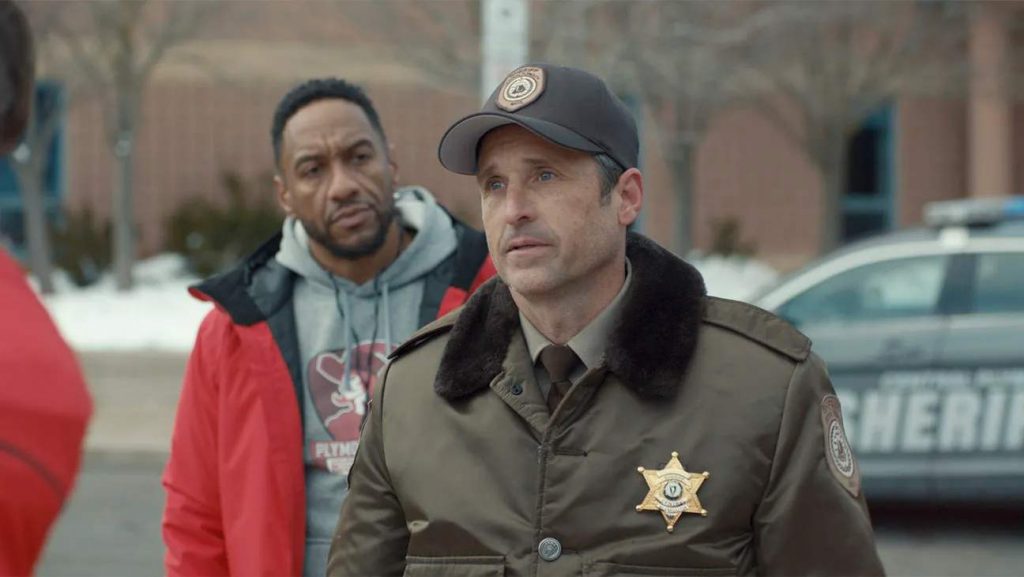 Thanksgiving throws a stunning curveball right when you think you have everything figured out. After being initially thought to be dead, Sheriff Newlon emerges as the real maniac hiding behind the mask. Newlon accuses Jessica of killing Mitch's wife, who perished in the Black Friday violence, because of an affair. His rant takes a sinister turn as he makes an effort to murder Jessica, only to have his whole admission shared on social media.  In the film's climactic confrontation, Jessica and Bobby just manage to avoid falling into Newlon's trap. Viewers are left wondering about Newlon's future after the dramatic conclusion, which also paves the way for a possible sequel. There isn't a post-credit scene, but Jessica's nightmare suggests that Carver or another masked murderer could still be a threat. 
Thanksgiving (2023) Movie Ending!
Newlon becomes enraged, attacks Jessica, and is ready to kill her when Bobby (miraculously still alive) smashes through the window and rescues her. In the midst of Newlon's gunshots, Jessica and Bobby manage to exit his office and take shelter in a nearby building. Despite Newlon's axe, Jessica is able to ignite a fire that destroys a turkey float that was supposed to be in the parade. The subsequent explosion ignites the structure.
During the ambulance scene, Jessica and Bobby reconcile their disagreements, but she chooses to stay with Ryan. No one could have survived the explosion, according to the police, but Newlon's body was never found. Jessica has a terrifying dream in which Carver is still hunting her. This means that Newlon or another killer wearing Carver's mask could still be on the loose.
Thanksgiving (2023) represents a return to Eli Roth's horror roots and a passion project. Within the holiday horror genre, the film stands out for its dark humor, unexpected twists, and gruesome sequences. Under the cover of a Thanksgiving feast gone terribly, the film asks viewers to consider the fine line that separates retaliation from guilt as the killer's identity comes to light. Get ready for a holiday horror experience that goes beyond custom, where the mask masks a story of revenge that pierces right through Plymouth, Massachusetts and covers more ground than simply a murderer's face.
What is the "Thanksgiving" (2023) movie based on?