In "Secret Invasion" Episode 5 titled "Harvest," written by Michael Bhim and Brian Tucker and directed by Ali Selim the Skrull Rebellion reaches a turning point in the plot. Gravik, the commander of the Skrulls, has dealt Nick Fury and his comrade's several severe blows, leaving them in a desperate state. The pressure on Fury is growing as a result of Maria Hill's passing, President Ritson's serious injury, and the loss of Talos (Ben Mendelsohn). The chances against Fury now that James Rhodes has been proven to be a Skrull seem stacked against him, but Priscilla/Varra, his wife, and G'iah played by Emilia Clarke, Talos' superpowered daughter, are still on his side. Catch up on all the excitement with our (www.tvacute.com) breakdown of Secret Invasion Episode 5.
Secret Invasion Episode 6 [Finale] Ending Explained! G'iah vs. Gravik
Who is Rick Mason (O-T Fagbenle) in Secret Invasion Episode 5?
Secret Invasion Season 1 Episode 5 Recap
Fury rushes the hurt President to the hospital as the episode,   gets underway. Talos is seen by witnesses to rescue the President, demonstrating the Skrulls' propensity for good. Despite the setback brought on by Talos' passing, Gravik's control over the revolt begins to wane as questions about his leadership and the judgment of some rebels, such as Pagon, surface. But in order to demonstrate his power, Gravik (Kingsley Ben-Adir) kills Pagon and orders Varra's death, further alienating his supporters.
In a dangerous maneuver, Gravik contacts Rhodey (Don Cheadle), who is actually the Skrull Raava, and orders her to keep the President alive while blaming Skrull-assisted Russians for the attack. This trick is meant to elicit an American military attack on Russian territory so that Fury can use it as leverage. Raava is shocked, but Gravik is adamant about carrying out his plan, even if it means sacrificing the Skrulls in New Skrullos.
Fury, meantime, meets Rhodey/Raava at the hospital brandishing a gun, but Raava admits that she was the one who released the press with the footage of Fury murdering Maria Hill. Fury's situation is made even more challenging by this discovery, which renders him sought. When "Rhodey" threatens to send the entire Secret Service after Fury if he approaches the President once again, Fury is compelled to leave the hospital.
In London, Special Agent Sonya Falsworth (Olivia Colman) outs Director Weatherby, her boss, as a Skrull and forces him to divulge where Dr. Rosa Dalton, the researcher behind Gravik's Super Skrull experiments, is located. Gravik is confronted by the rebels in New Skrullos, which results in a bloody encounter in which Gravik displays his newly discovered abilities. Gravik executes Beto, the sole rebel still alive, for challenging him.
In addition to mourning her father Talos, G'iah informs Fury that she has now evolved into a Super Skrull. Fury's request for assistance from G'iah, who has no choice but to bury her father properly, led them to Priscilla. Fury is compelled to leave due to the police presence, and G'iah inquires as to his destination. Fury answers, "Finland."
Fury visits Sonya in Finland while posing as "Mr. Kerhonen" using SHIELD technology. As they approach the Russian border, they talk about the arguments against Rhodey and Gravik's attempts to start a third world war. In "Avengers: Endgame," Fury explains that he deployed a covert Skrull team to gather DNA from a variety of people, including the Avengers. The Harvest was this collection, and it is from it that Gravik intends to produce Super Skrulls.
'Secret Invasion' Episode 5 [Harvest] Recap: Ending Explained!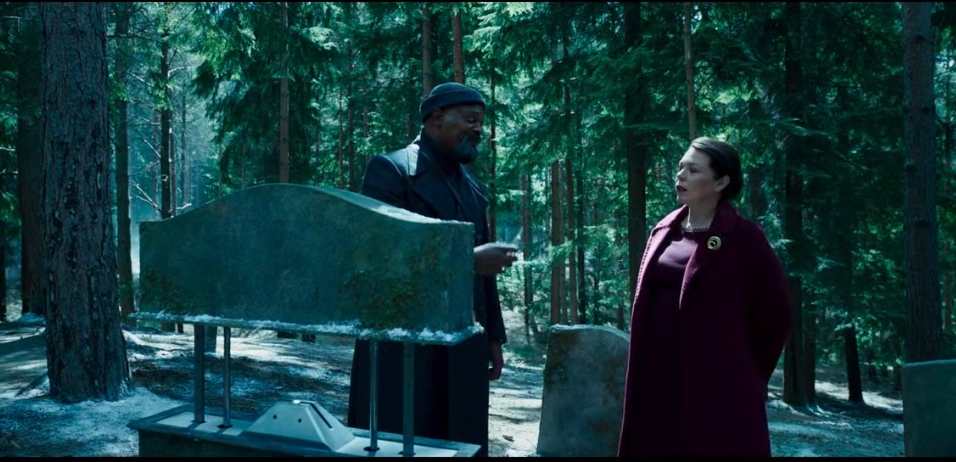 Fury takes Sonya to Col. Nicholas J. Fury's tomb at a cemetery, where he concealed the Harvest. Sonya wonders why Fury doesn't ask the Avengers for assistance, but he feels that he must handle things on his own and not just rely on superheroes. He admits that his wife is a Skrull before getting ready for the showdown with Gravik.
Fury puts together his signature look after obtaining the Harvest, including a new eye patch, a black trench coat, and a rifle, as he prepares for a potential clash with the Skrull commander. He announces, "It's time," in a brief phone call, setting the scene for the conclusion. Let's complete this.
As the episode "Harvest" comes to a close, Fury begins the final phase of the conflict, keeping the audience on the edge of their seats as they wait for the epic finale of "Secret Invasion."