P-Valley Season 2 episode 10 titled "Mississippi Rule" picks up where we last left off. The results of Chucalissa's mayoral election and Lil Murda's brief collapse following the brawl in the Pynk are of the utmost importance right away. Who became the new mayor? who was kidnapped? .tvacute.com has a full recap on exactly what went down in the P-Valley season two finales.
Britney was not happy when Andre Watkins (Parker Sawyers), and Hailey found her sitting there when they got home last week. She is still quite adamant about being in love with her husband who Andre tells her might not be the actual one. Despite the fact that she has engaged in extramarital affairs, Andre points out that she doesn't really have a case to make. Barack and Michelle, as Corbin Kyle (Dan J. Johnson), refers to them, must play happy families in either case when Andre stands up in front of the assembled media and makes a statement on the new mayor-elect Patrice Woodbine (Harriett D. Foy). Yes, Mercedes' mother Patrice came in the first place. Although Britney is forced to remain there and smile through it, Andre doesn't view it as a major setback and says that he is returning to his hometown to start a new law firm just next to her.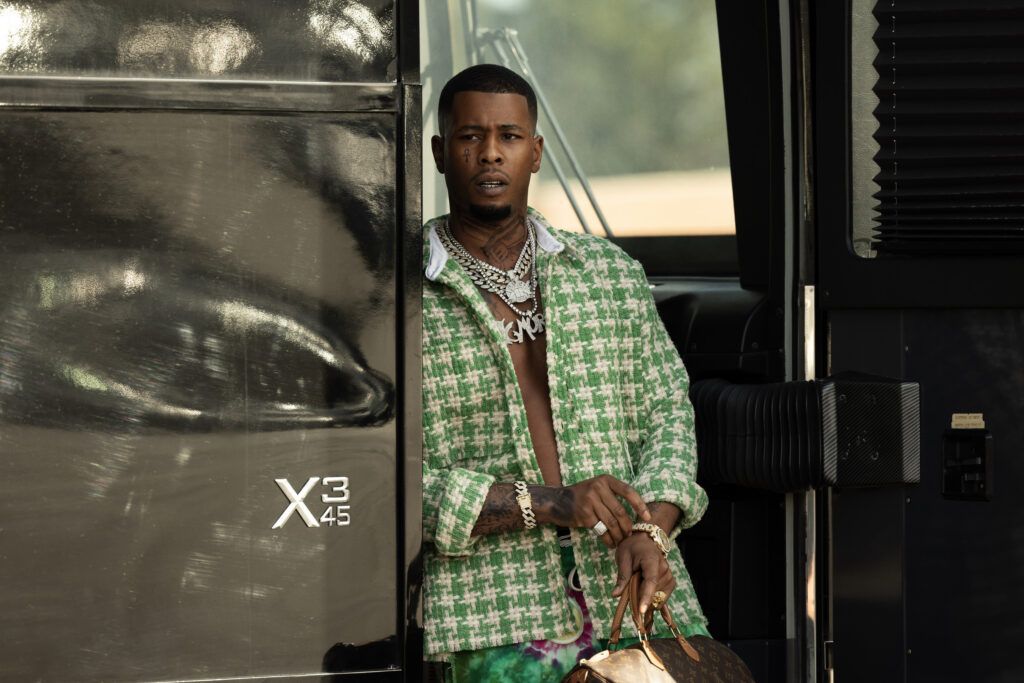 Lil Murda (J. Alphonse Nicholson) enters the stage and cuts the music before singing the first line of his song "Seven Pounds of Pressure" acapella and directing it directly towards Mane (Thomas Q. Jones), who is front and centre in the audience, after gazing at all the reflections of himself that were in the broken backstage mirror. You already understand what this means, and the lyrics aren't particularly subtle either. Murda is practically declaring Pico's demise. That will receive a response. It's also unlikely that any of it will be excused on the basis of artistic licence, even as Mercedes (Brandee Evans) performs on stage alongside Murda and they both put on a wild display.
In fact, Lil Murda is quickly brought back to reality. The good news that Uncle Clifford's grandmother, Earnestine Sayles survived her encounter with Covid-19 is balanced by the bad news that Murda is about to embark on a tour. When he and Mercedes enter the dressing room, they discover Uncle Clifford (Nicco Annan) inconsolable. Uncle Clifford breaks up with Murda, knowing that he shouldn't be confined to the cage of Chucalissa but also, on some level, knowing that he probably won't ever become the star he could be if the world knew who At least now that Farrah (Shamika Cotton) is sending her royalties for utilising Mercedes' image in her photography exhibit, things are looking up for Mercedes. She uses them to decorate the walls of her gym as she prepares to reopen it, and Patrice just so happens to appear with wonderful news: Terricka's mother Shelle has gone into treatment and left her in Patrice's care; Patrice is allowing Terricka to stay with Mercedes in her place.
On the other hand, Hailey Colton / Autumn Night isn't having a great episode. After the strange whipping distraction in the previous episode, it becomes clear that Clifford only used Corbin's sexual transgressions as a means of striking a bargain with him and Wayne Kyle (Josh Ventura ) in secret. In order to build a casino, a canal from the Mississippi to Kyle's doorstep is being constructed, which thwarts Hailey's intentions to sell The Pynk for a nice $10 million. She currently has no rights other than the $250,000 that Corbin gave to Cliff. Uncle Cliff is willing to return that money to her in exchange for exclusive control of the Pynk, and as Hailey deliberately prioritised her career over the club and the people in it, she has no one with whom to argue her case.
The same thing happens to Shannon Thornton character's Keyshawn's escape plan when she travels to her sister's house to pick up the kids only to find that her abusive boyfriend Derrick Wright (Jordan M. Cox) already has them. When she comes home, Mississippi Child Services is looking into her due to the proof of child abuse that Derrick did against their children. Infuriated by Derrick's arrogant expression in this scene, Keyshawn loses it entirely and just makes things worse by hitting him.
The Pynk, where Earnestine has planned her own welcome-home celebration, is the only place to go, as usual. It's also a formula for disaster because Murda is present, and we already know that Mane is chasing him after telling Mercedes bluntly to watch her back. In an extremely emotional conversation with Clifford, Murda confesses that he has cancelled his tour in order to be with Cliff, at least in part. However, there are more pressing issues at hand. Cliff hides in the narcotics that Big L (Morocco Omari) was originally not authorised to possess at the club after Big L announces that Hailey has emptied the Pynks' bank accounts. She stumbles onto the dance floor where she runs into Lil Murda, dancing with him and publicly kissing him. Nobody appears to care. However, P-Valley's Season 2 finale comes to a disappointing conclusion when Diamond (Tyler Lepley), whom Keyshawn hired to handle her relationship with Derrick, is abducted.