Riverdale Season 7 Episode 14, titled "Archie the Musical," takes us on an entertaining musical adventure. The episode explores viewers on a rollercoaster of emotions as the characters navigate the complexities of love, friendship, and self-discovery. Betty and Veronica find themselves entangled in a complex web of emotions. The episode features captivating original songs, dramatic revelations, and heartfelt performances that leave you longing for more.
Riverdale's final musical episode showcases the talented cast's musical abilities while delving into the personal struggles they face. With intriguing storylines and an unforgettable musical spectacle, this episode is sure to keep fans eagerly returning for more of the thrilling and enchanting world of Riverdale.  (tvacute.com) Here is all you need to know about the conclusion of Riverdale Episode 131.
Riverdale Season 7 Episode 14 Recap
In Riverdale Season 7 Episode 14, titled "Archie the Musical," the episode begins with Archie Andrews (KJ Apa) and the gang singing and dancing about their first day of senior year. The students don't really like the new musical that Kevin Keller (Casey Cott ) and Clay are writing, they admit. Reggie and Jughead left, declaring their distaste for American musical comedies.
Archie reveals he doesn't enjoy the song and is unclear of what he really wants in life as Kevin, Julian, and him practice a "I Want" number. Clay (guest star Karl Walcott) and Kevin pledge to create a superior solution. The girls are given a song the following day about the Valentine's Day dance and competing for Archie's love. The females argue back, and Toni and Cheryl advise writing something more truthful. Veronica Lodge (Camila Mendes) proposes that Cole Porter compose a song for them.
In this exciting episode, Archie takes center stage as he belts out a captivating new "I Want" song. This heartfelt melody delves into the depths of Archie's inner turmoil, showcasing the timeless love triangle between Betty cooper (Lili Reinhart) and Veronica. As the classic tale unfolds, we witness Archie's struggle not only with matters of the heart but also with the conflicting worlds of athletics and art. In the meantime, Veronica confesses to Betty that she prefers Betty over Archie despite their kiss. They consent to put their friendship first and hold hands, making a possible romantic connection seem more subtle.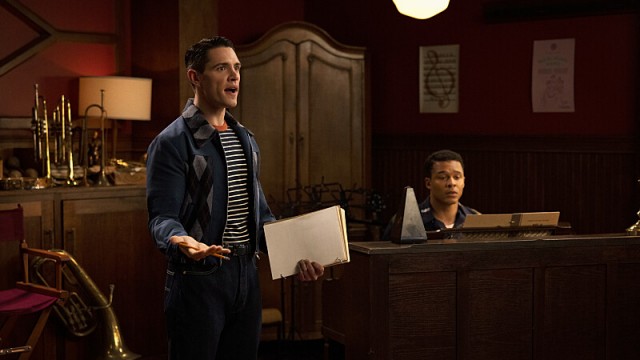 Real-world turmoil confronts Kevin as his father temporarily vacates the house, adding to his fears. Eventually, he composes a song about Cheryl and Toni's forbidden love and desire, but he informs them that it won't be in the musical because Riverdale isn't prepared for it. Toni and Cheryl also leave the musical.
Indecisive about his future, Archie confides in Jughead his predicament and performs a song about maturing and making decisions. He chooses to leave the basketball team in order to focus on writing. Uncle Frank may make fun of Archie, but he never wavers from doing what he feels is right.
Cole Porter's song is presented to Kevin by Veronica, who sings it with Betty while portraying an ideal image while expressing her reservations.  In a fantasy sequence, the girls unite in a joint campaign for class president, sharing intimate moments as they hold hands and share a passionate kiss.  Both females are intrigued by their moment of passion. but Archie interrupts to declare something. He assures them that he will not pursue either of them because he is concentrating on himself, giving them both room to think of other things to say.
In addition to Principal Featherhead's revelation that Oklahoma! will be performed in place of their original musical, Kevin is horrified to learn that his parents are divorcing. Things only get worse from there. Kevin lashes out at his peers, blaming them for the requested adjustments. When Kevin's mother comforts him after his father's divorce is revealed by Clay, she assures him that she will always love him without condition.
Kevin is thanked by Archie for assisting him in making his life's decision. In this touching sequence, Kevin takes center stage and expresses his feelings through a soul-stirring piano ballad that considers the difficult but necessary process of growing up. The group hug follows Kevin's sobbing and the buddies join in to encourage him. Betty and Veronica are once more holding hands as the program comes to a close.