After a long hiatus, Nate and Angela are back in Eve's Crown, showing off their old dance talents to Nikki in Our Kind of People Episode episode 10. Until Piggy interrupts with news of unfinished business with Tyrique. (Read the full recap below)  From tvacute.com comes the trailer and synopsis for Our Kind of People Episode 11, In order to mentally prepare for the upcoming episode. Keep in mind after this Only one episode left.
After all, the episode comes that will establish the tone for the rest of the series! Season 1's penultimate episode is "It Is Not Light We Need, but Fire." Angela will be in a hazardous situation. a significant death should surprise you. Until now, there hasn't been any talk about a second season. We have a feeling that the writers here will do everything they can to make sure the show ends on a high note.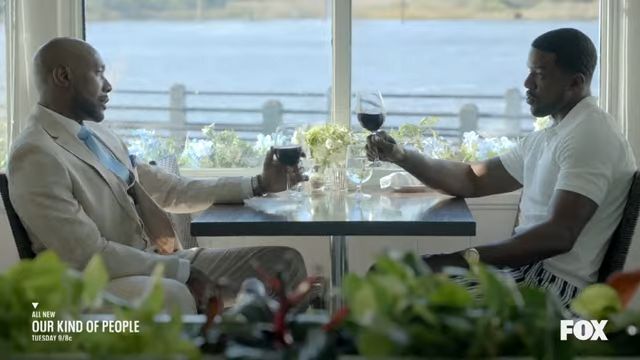 The writer will give a solid episode to deal with the fallout. Teddy gives Angela a choice between two options. Raymond regains his confidence and extends an invitation to Leah. Aunt Piggy is taken aback when a familiar face from her past emerges. The Franklin and Dupont families are shocked by the death of a member of their family.
Our Kind of People Episode 11 Spoilers
Our Kind of People Episode 11 Synopsis: Teddy gives Angela an ultimatum; Raymond regains his confidence and makes an offer to Leah; Aunt Piggy is shocked when a face from the past reappears; a death shocks the Franklin and Dupont, families.
Cast: Yaya DaCosta as Angela Vaughn; Morris Chestnut as Raymond Dupont; Joe Morton as Teddy Franklin; Nadine Ellis as Leah Franklin-Dupont; Lance Gross as Tyrique Chapman; Alana Bright as Nikki Vaughn; Rhyon Nicole Brown as Lauren Dupont; Kyle Bary as Quincy Dupont
Guest Cast: Debbi Morgan as Aunt Piggy; L. Scott Caldwell as Olivia Dupont; McKinley Freeman as Nate; Nicole Chanel Williams as Taylor
Our Kind of People Season 1 Episode 11 Release Date
Our Kind of People Episode 11 will release on Tuesday, January 18, 2022, at 9 p.m. ET (8 p.m. CT) on Fox,  Available on Hulu. On iTunes, Vudu, Microsoft Store, Google Play, and Spectrum on Demand, fans who are acquainted with Video-on-Demand platforms can watch the previously released episodes. DirecTV, Hulu+Live TV, Xfinity, FuboTV, and YouTube TV all have live-streaming choices.
Our Kind of People Episode 10 Recap
Tyrique's business pitch pleases Teddy in his office. Leah is at home looking over old Raymond's photos. Angela attends Gracities bid week. Leah informs Angela that she has a bid and an investor after impressing Giselle Hilgard at the latest Gracities gathering. Teddy's congratulatory visit quickly taints Angela's sweetness. Leah visits Eve's Crown after Angela leaves. A picture of Angela's mother Eve shows Leah that her mother was just as driven for Angela as Nikki is. Despite the absence of evidence, Angela tells Leah that she believes Teddy arranged up her mother's incarceration. Piggy spills all when she meets Tyrique. Raymond arrives at the police station to get Jack's business records and discovers Teddy has them as well as additional evidence he believed he had disposed of. Tyrique had experienced a flashback of himself and his mother in the police station waiting room on the day of his father's death while picking up documents for Teddy. Tyrique has a panic attack. Raymond sees him and offers to get him some water. Tyrique is skeptical when Raymond asks for the papers. So, how did Piggy and Tyriques' conversion go? Angela wants to know. Piggy is happy Tyrique pardoned her, but she hasn't forgiven herself. Raymond tells Leah about his guilt over Jack's death. After almost retrieving documents, Raymond claims Teddy is using Tyrique for the dirty job again. Leah defends Teddy when Raymond says he will hurt anybody in his way to secure his interests. She should talk to her mother, Raymond says. Angela and Nate try to talk to Piggy. When Leah visits her mother Rose, she starts asking questions regarding Eve's arrest. Teddy wonders why Leah's history has disturbed her mother. Leah says she wants her sister to be happy. Teddy threatens to expel Angela from the family because she can't let go of the past. Olivia visits Raymond and inquires about Jack's paperwork. Raymond says he's been busy cleaning up. Angela and Nikki woo Olivia and investors with handmade pound cake. Leah explains to Angela that her father had nothing to do with Eve's arrest. Angela tells Leah she will do everything for the truth. Raymond mends old wounds with Tyrique that harmed Tyrique's reputation. Angela's chance to be the fifth and final initiate in the Gracities sisterhood is snatched when Leah votes against her. Tyrique gives Raymond the documents to sign before going to Teddy's. Raymond then proposes they team up to kill Ted. Tyrique agrees. Tyrique apologizes to Angela for his distance and her loss in the Gracities bid week. When Nate gives Angela the letter Piggy left, she receives more bad news.