The Wonder is a 2022 psychological period drama film directed by Sebastián Lelio and based on Emma Donoghue's 2016 novel of the same name. The screenplay was written by Donoghue, Lelio, and Alice Birch. Tom Burke, Elaine Cassidy, Kla Lord Cassidy, Niamh Algar, Toby Jones, and Ciarán Hinds are also in the cast. Florence Pugh is in charge of the whole group. The Wonder was first shown to the public at the Telluride Film Festival on September 2, 2022. On November 2, 2022, it was shown in a few theatres, and on November 16, 2022, it was available to stream on Netflix.  For a detailed explanation of everything that happened in 'The Wonder' Movie continue reading the recap at tvacute.com.
If you just saw The Wonder now that it's available to stream on Netflix, you might be wondering about that unexpected conclusion. Sebastián Lelio's psychological thriller begs you to trust in the storytelling medium's ability to shape reality. As an illustration, the little girl Pugh's Nurse Lib Wright met claims to be able to survive without food, but in reality, someone may be making up an amazing tale. Let's briefly go through The Wonder's ideas, what proves to be true in the novel, and why the opening and ending are so peculiar.
We hear eerie choral music as we observe the partially completed framework of a vintage two-story house. The camera sweeps across what looks to be a set lot at a movie studio that is crammed with tools and other set pieces. Then voiceover actor Niamh Algar says: "Hello. This is the start. The opening scene of the movie The Wonder. The individuals you're going to meet, the characters, have a fierce loyalty to their tales. We ask you to believe in this story because without it, we would be nothing."
[Netflix]'The Wonder' Story
"The Wonder," which is set in 1862 Ireland, depicts Nurse Lib Wright (Florence Pugh) as she arrives in a town to check on a child named Anna (Kla Lord Cassidy) who hasn't eaten in four months but seems to be doing okay. To check how Anna is truly accomplishing this, a council of men—Dr. McBrearty, Sir Otway, Father Thaddeus, John Flynn, and Seán Ryan—put Lib and Sister Michael on eight-hour shifts. It is forbidden for Lib and Michael to discuss their conclusions with one another in order for their evaluation of the scenario to be as unbiased as possible. The start of Lib's watch is routine as she observes Anna and passively records all she sees. However, Lib is skeptical because of her parents' close proximity to her and the regular appointments she has with guests who travel great distances to see her and donate to the cause. So, pretending to acquire a correct reading, she stops Anna's appointments with her parents and other strangers. And that's precisely when things begin to deteriorate. The way the tale is framed also prepares us to recognize the entrancing power of literature; before long, you're lost in the creaking, drippy, smoky world of the ship and Nurse Wright's voyage, a journey the narrator has asked us to believe in.
What beverage does Nurse Wright have each evening?
Nurse Wright's dependence on what appears to be liquid opioids is another representation of what is real and what isn't. The night could be a means for Nurse Wright to cope with the trauma she has experienced, including the loss of her infant daughter and the subsequent breakup of her marriage. She could prick her finger to see whether she's still alive, or she might do it intentionally to injure herself. The practice appears to make Nurse Wright's grasp on reality even more shaky in the midst of the pressures of her current position.
Anna doesn't actually need to eat, is it true?
We observe young Anna's mother leaning in very close to her daughter's face when she is in bed not long into Nurse Wright's stay with the O'Donnell household. Either a passionate kiss on the forehead or something more ominous. As soon as the O'Donnells approach Anna, Nurse Wright intensifies her surveillance of the miraculous patient. Anna's health progressively deteriorates after this moment. After calling the committee together, Nurse Wright describes the problem around halfway through the movie: "Mrs. O'Donnell, Anna's mother, has been feeding herself out loud. She kisses her good morning and good night while cupping her face and feeding her kid with each kiss, much like a bird." When Anna's mother is prohibited from kissing her, she falls unwell soon since she is no longer getting any food.
Anna won't eat, so why?
Even when Nurse Wright presents the committee with her findings, Anna's mother continues to deny the reality. She and her husband are unwilling to renounce their religious convictions, thus they are prepared to allow the experiment to go through even if Anna perishes. Whatever the case, Anna has "chosen" to take her own life because she thinks that by doing so, "one soul will be delivered… from Hell." Anna believes her brother, who assaulted her for years when she was nine years old before he passed away, will be this soul. His fatal sickness served as a "punishment" for the "Unholy" conduct, but their mother claims that with Anna's sacrifice, he will be allowed to go to Heaven. Anna feels obligated to do this since she reciprocated her brother's affection. The narrator ultimately turns out to be Kitty (Niamh Algar), Anna's sister, who is shown as a blond woman standing in a field in the 19th century.
'The Wonder' Ending, Explained! Why is the narrator there at the end?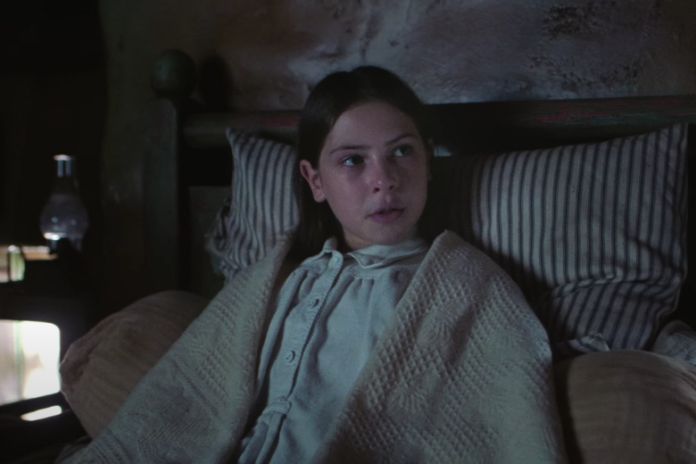 In the end, Nurse Wright saves Anna by using the persuasive qualities of narrative and faith. Nurse Wright persuades Anna of an alternative ending after learning the awful story her mother has been feeding her: that she can die and make her sacrifice, but also be reborn as a 9-year-old again who did not experience terrible actions. Nurse Wright puts Anna into a trance-like condition by combining the opiate liquid with milk, during which she experiences rebirth and takes on the new identity of "Nan." In order to avoid being charged by the committee, Nurse Wright fabricates a death report for Anna and burns down the O'Donnells' home, concealing the presence of a body.
Using the guise of the Cheshire family, Nurse Wright, William, and Nan successfully flee Ireland and arrive in Australia. There, they are shown enjoying a lavish lunch, with Nan once again visible in the kitchen. The camera pans and we move back to the film studio to the sound of more upbeat, ethereal tones. There, Algar, who was previously portraying Anna's elder sister Kitty, is now the enigmatic storyteller and is clad entirely in black. In. Out. she murmurs. Pretentious once more, yet it's important to remember the importance of religion and the concept of believing in stories.