[Netflix]'Maestro in Blue' Release Date: "Maestro in Blue," the well-liked Greek TV program, is now viewable on Netflix. Christoforos Papakaliatis, who also serves as an actor in the series, created it for Mega TV, making it the first Greek series to be added to the platform. The series was co-directed by Christopher Papakaliatis and Akis Polizos for the first time on Greek Netflix.  Here's all (tvacute.com) we know about the first season of 'Maestro in Blue.
Maestro in Blue' Season 1 Release Date on Netflix
Maestro debuted in November 2022, before being dubbed Maestro in Blue to avoid confusion with the impending Leonard Bernstein movie. On Friday, March 17, 2023, the world will be introduced to a historic first for Greek scripted television programs: an exclusive global distribution agreement with Netflix.
Maestro in Blue's Story Synopsis
An intriguing television series called "Maestro in Blue" depicts the compelling story of a musician.
"A musician goes to lead a festival on a scenic island, where he begins an unexpected romance and finds himself entwined in other people's problems."
The show, which is set on the picturesque Greek island of Paxos during the COVID-19 epidemic, explores the fascinating history of that place through naval battles, piracy, and foreign rule. Paxos, however less populous and well-known than other Ionian Sea islands like Corfu or Lefkada, nonetheless has breathtaking natural beauty to offer tourists. Papakaliatis declared that the second and final season, which would premiere on Greek TV before being made available on Netflix, will begin filming by April 1st.
Maestro in Blue Season 1 Episode Guide
Maestro In Blue Episode 1: Clair de lune
Synopsis: Orestis is a musician and arrives at Paxos to organize the island's music festival. There he will meet the whole small society. His meeting with young Klelia will be the occasion, to find himself involved in extreme situations.
Maestro In Blue Episode 2 Denial
Synopsis: Orestes discovers that the life of the island's inhabitants is not what it seems. He develops a personal relationship with them and discovers dark secrets about each one. He takes a stand against the violence that Maria and Spyros receive.
Maestro In Blue Episode 3 Prayer
Synopsis: Preparations for the music festival are progressing. The illegal activities of Fanis and Charalambos are revealed to their children and conflict is inevitable. Harris parallels the love of Clelia and Orestes with her own lost love.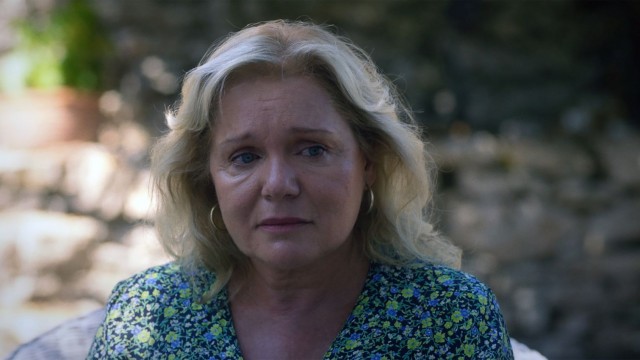 Maestro In Blue Episode 4 The Great Chimera
Synopsis: The domestic violence from Charalambos to Maria will trigger new developments on the island. Orestes and Clelia find themselves in Corfu for a while, and there they get even closer. Orestes doesn't know how to manage his love for her.
Maestro In Blue Episode 5 La Famiglia
Synopsis: Fanis prepares for his election campaign, continues the illegal activities with Charalambos and tries to keep his family together.He learns about Orestis relationship with Clelia and invites him to the house in order to discover the truth.
Maestro In Blue Episode 6
Synopsis: Alexandra arrives in the small island, and her relationship with Orestes is divulged. Orestes feels uncomfortable and Klelia is broken by Alexandra's appearance. However, things are different and Oreste's past is revealed.
Maestro In Blue Episode 7 An Uninstructed Sink
Synopsis: Spyros and Antonis visit Athens secretly. Orestis cannot express his feelings to Klelia while Alexandra make things worse.
Maestro In Blue Episode 8 Autoimmune
Synopsis: Alexandra's pregnancy leads to an impasse for Orestes who has now accepted his love for Clelia. Charalambos removes Maria and Spyros from the festival. Maria discovers something about her husband that pushes her to her limits.
Maestro In Blue Episode 9 Love Me Do
Synopsis: The music festival begins. The whole island is flooded with music. At the same time, the developments in the lives of the heroes are rapid and the murder of Charalambos is decisive. SEASON FINALE
Watch 'Maestro in Blue' Season 1 Trailer
  Maestro in Blue Cast
• Christopher Papakaliatis as Orestis
• Klelia Andriolatou as Klelia
• Maria Kavoyianni as Maria
• Fanis Mouratidis as Fanis
• Marisha Triantafyllidou as Sofia
• Giannis Tsortekis as Haralambos
• Orestis Chalkias as Antonis
• Yorgos Benos as Spyros
• Spyro Curtis as British Friend Musician
• Haris Alexiou as Haris
• Antinoos Albanis as Michalis
• Dimitris Kitsos as Thanos
• Stefania Goulioti as Alexandra
• Tonia Maraki as Gianna
• Sandra Sarafanova as Lena
• Ioanna Chronopoulou as Kiki
• Giorgos Biniaris as Dionysis
The show's co-creator and director, Papakaliatis, together with Akis Polizos, took delight in their work and congratulated the outstanding actors for bringing the plot to life. Beginning on March 17, 2023, Netflix will be the only place to watch the series.
Papakaliatis also revealed that season two will start production in April 2023, with some new cast members. This final season will premiere on Greek TV before being made available online via Netflix.
Is Netflix's Show Maestro in Blue Based on a Real-Life Story?