In the previous episode of NCIS: Hawaii, . Lucy and Kate had a lovely morning sixteen hours before, but Kate was preoccupied and needed to get to work. the task team worked in the capture of a notorious drug dealer named Santos. Lucy was saved and praised for her work, but it didn't matter because her girlfriend was seeing another lady. she couldn't stand it any longer and turned down Kate. Jane witnessed the conversation and hugged a tearful Lucy. Read the recap below.
Are you are eager to watch the new episode 12. Is the 12th episode of NCIS: Hawaii season 1 going to be a pivotal one for the show? If you're looking for a few more tidbits about what's to come.  Here's (www.tvacute.com) everything you need to know including the promo and release date.
Why NCIS: Hawaii Episode 12 is in the news, NCIS: Hawai'i returns for a new episode with season one on CBS. "NCIS: Hawaii Episode 12" is important for a number of reasons. First,The episode will be directed by LeVar Burton, a former star of Star Trek: The Next Generation. this will be a major episode. All of this story will carry over to part 2. This episode is enormous, with Maggie being missing. Furthermore, given the case's global scope.
NCIS: Hawaii Episode 12 getting so much attention.Why? Beulah Koale will appear in this episdoe. He used to be on Hawaii Five-0, but now he has a new job that will give him a chance to show a different side of himself. What can he do? If you didn't know this, you can go deeper here. During the final three seasons of Five-0, Koale, a New Zealander, portrayed Navy SEAL turned task force member Junior Reigns. He also played the role in a Magnum PI episode. He's also got a film with Karen Gillan and Aaron Paul in the queue.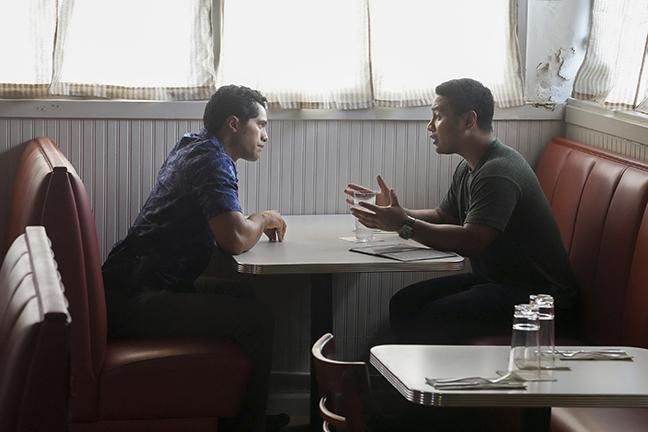 NCIS: Hawaii Special Episode 12 is called "Spies" Part 1, In this episode, it turns out that a lowly Navy engineer named Joseph Chan died, and his death will be a mystery. Jane Tennant (Vanessa Lachey) and the rest of the crew will be investigating the death of Navy engineer Joseph Chan in this episode. When they begin their investigation, they will discover that the last person Joseph saw before he died was his colleague Maggie Shaw (Julie White), who has been abducted.
A New Zealand Intelligence Service affairs officer named David Sola ( Beulah Koale) will reportedly lead a case. He is investigating a case that may link Josephs' killing to a Chinese black ops operation. As a result, David will travel to Hawaii to pursue the lead. Looks like we will get to see some very interesting, intense, maybe dramatic, action packed and suspenseful scenes in Episode 12. but you might have to wait a while to see it. check the release date below.
NCIS Hawaii Episode 12 Synopsis:– NCIS investigates the mysterious death of a Navy engineer; Jane's mentor and friend is kidnapped; a New Zealand intelligence service case officer arrives and connects the Navy engineer's death to a Chinese black operation secret agent.
NCIS: Hawaii Episode 12 Release Date
NCIS: Hawaii episode 12 will air on Monday, January 24 at 10:00-11:00 PM, ET/PT on CBS. and available to stream live and on-demand on Paramount+.  Live TV services such as FuboTV, Hulu with Live TV, YouTube TV, and DirecTV stream allow you to watch new episodes of NCIS: Hawaii on CBS.
When will NCIS: Hawaii Episode 13 be?
NCIS: Hawaii episode 13 "Spies, Part 2" will release on Monday, February 28th at 10:00-11:00 PM, ET/PT. Although, for the time being, that may just a temporary date.
NCIS: Hawaii Season 1 Episode 12 Cast
REGULAR CAST: Vanessa Lachey (Special Agent in Charge Jane Tennant) Alex Tarrant (Kai Holman) Noah Mills (Jesse Boone) Yasmine Al-Bustami (Lucy Tara) Jason Antoon (Ernie Malik) Tori Anderson (Kate Whistler) Kian Talan (Alex Tennant)
GUEST CAST: Mahina Napoleon (Julie Tennant) Julie White (Maggie Shaw) Seana Kofoed (Commander Chase) Beulah Koale (David Sola) April Parker Jones (Valerie Dalies) Danny Kang (Alan Liu) Christian Yeung (Lt. Commander Chen) Erica Wong (Myra) Danielle Nuela Zalopany (Hina) Allan Tam (Owner) WRITTEN BY: Yakira Chambers & Ron McGee DIRECTED BY: LeVar Burton
NCIS Hawaii Episode 11 Recap
Lucy and Whistler are getting along great. They dated. They have coffee together without worrying. Then work intervened. NCIS aided HPD with an internal situation. They were looking into HPD Det. Roy Burr. He'd been in the Narcotics squad for 15 years. He recently assisted a joint task team in the capture of a notorious drug dealer named Santos. He was formerly a police informant. Santos would inform on other drug traffickers and absorb their territory quality, which worked for a while. The joint task force The Navy promised to process the drugs while the cops were to keep the proof. That evidence was recently erased. Hard drives were wiped clean, and HPD suspected Burr. Burr made Santos an informant. They collaborated for years. The District Attorney declined to charge Santos without Burr's assistance. That displeased NCIS. They worked hard for nothing. They needed a way to stop Santos and his helpers, so they looked into Burr. They were silently following him into a Chinese market that was actually an underground casino.
Kai saw Burr get into a fight in the casino. He went outside after checking his phone. He had been outside for less than a minute when he was shot. Everyone suspected Santos. They discovered Burr was enticed to his death by a text message from a burner phone. Santos had to be. Santos was the only one who wanted Burr dead now that he was out of prison and no longer useful. But Burr's death gave them a chance. Burr was a member of an exclusive poker game and his death necessitates a replacement. A poker player was needed. Lucy acted. She was a terrific poker player, even though she never played in person or with real money. She was also the closest they could get. They told her story. They said she was a Texas rich kid. They provided her with the $10,000 she needed to enter the game. Lucy had the rest. Lucy won over a few players. It helped that she looked like a Texas Cinderella. To avoid walking on Whistler and Whistler's girlfriend from DC, Lucy looked great and focused on her task.
Lucy preferred to work. But she was off. Lucy first played the sassy southern beauty perfectly, then she started winning games. She simply won so she could clone Santos' phone. When Lucy went to check on the cloner gadget, she felt a gun put against the back of her head. Santos grew skeptical as she won. He assumed she was a cop and that she was going to pardon him, but another poker player interrupted them. Lucy defeated Santos. She rushed away with a judge who saved her life by interrupting them, with Santos' men close following. Lucy couldn't bring her phone to the poker game. They were tipped off when neither she nor the judge returned to the poker table, so they went after them. But Lucy wasn't an issue. She was able to kill Santos on her own, but the judge drew his gun. Everyone at the poker table appeared to have washed their hands. Lucy would have been in trouble if her squad hadn't stepped in at that particular moment. Lucy was saved and praised for her work, but it didn't matter because her girlfriend was seeing another lady.