In the latest episode of Manifest's Season 4 part 2, Angelina makes a comeback and remains steadfast in her belief that God will communicate with her for the ultimate reckoning, with Cal being a crucial player in the scheme of things. Michaela and Jared team up to crack Joe Butler's Calling and locate his missing son. Meanwhile, Ben Stone (Josh Dallas) and Saanvi Bahl (Parveen Kaur) stumble upon Captain Bill Daly and make a shocking revelation. (tvacute.com) Here is all you need to know about the conclusion of Manifest Season 4 Episode 12.
Manifest Season 4 Part 2: What Happened to Fiona Clarke and Captain Bill Daly? Are They Dead?
Manifest Season 4 [Part 2] Episode 12 Recap: "Bug Out"
Episode 12 of Part 2 of Season 4 of Manifest features the continuation of multiple plotlines. Angelina, a homeless woman from St. Louis, Missouri, is waiting for a sign from God about the end of the world in a nearby homeless camp. She tells a young girl that she saw the boy she had been talking about, further suggesting Cal's involvement. On Flight 828, Cal (Ty Doran) has an awkward encounter with Angelina and later professes his desire to avoid her. Later, he comes across a plane-shaped hole in an orchard and, at the bottom of a ladder, an unconscious Captain Bill Daly (Frank Deal).
Meanwhile, Michaela "Mick" Stone (Melissa Roxburgh), bored, meets up with Zeke Landon (Matt Long ) again as he suddenly appears from The Glow. They lament the lost chances of getting together in the past. But their chat is cut short as a doctor quickly injects Michaela with something and whisks her away. After Michaela returns from The Glow, Zeke welcomes her once more. Michaela is missing Zeke and wants to give him a hug when Jared walks in with a drink from a place they used to go to together.
Joe Butler is grilled by Director Zimmer and Jared Vasquez (J. R. Ramirez ) about his Calling, which they believe involves paper, ink, and a violin. Michaela is the only passenger with a law enforcement history, so Zimmer agrees to pair her with Jared for a trial run to assist solve the Calling. Michaela discovers a tracking chip has been implanted in her body. Michaela and Jared collaborate, using Jared's brother's database to whittle down a list of potential companies. They go to an antique shop where they supposedly hear violins but discover nothing out of the ordinary at first. He then utilizes his skills to access Joe's thoughts and glean further information about the Calling after getting in touch with Cal. Michaela and Jared end up back at the antique shop because of this, and there they find a secret room harboring several trafficking children, including Joe's kid.
Manifest Season 4 [Part 2] Episode 12: Ending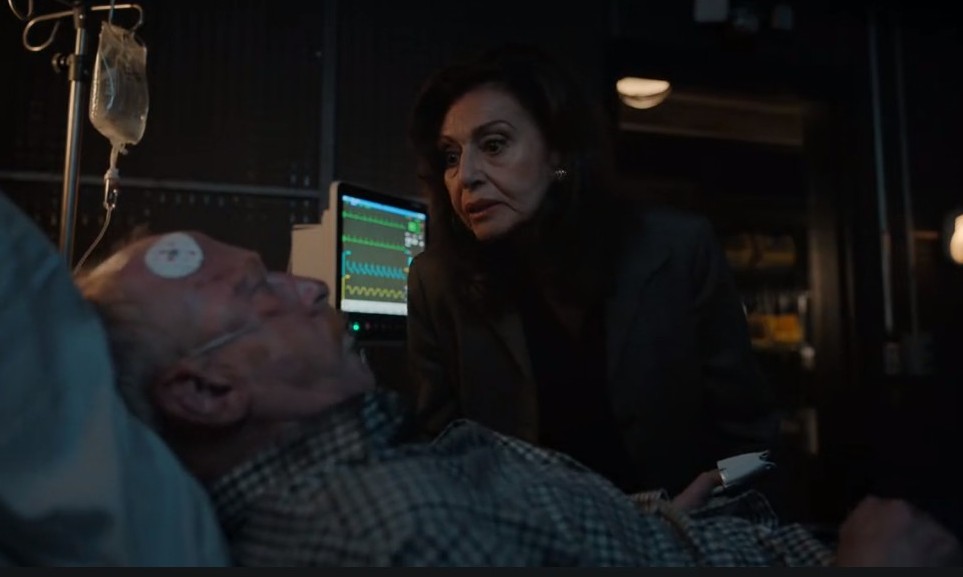 Michaela takes care of the kids once the trafficker is caught. Joe is able to see his kid again through the visitor's area, and he gives his son hope for a better life. Meanwhile, Ben is unable to stop writing "Wake him up" on the wall as he is overcome by a Calling. Saanvi helps him out and figures out that it's a chart of the prison. Ben and Saanvi go undercover to explore the map and discover Captain Bill Daly, who has bugs crawling out of his mouth when he wakes up. Due to the lockdown, they have to abandon him. Captain Bill Daly is found awake by Zimmer and her team at the end of the episode, and they are disturbed by a swarm of bugs that emerge from his mouth.
Manifest Season 4 [Part 2] Episode 11 Recap: "The Final Descent"
Is there a happy ending for Ben Stone and Dr. Saanvi Bahl in Manifest Season 4 Part 2?