The action-thriller movie "Jawan," also known as "Soldier," is an eagerly anticipated Hindi-language production from India. This marks the debut of the incredibly brilliant Atlee Kumar as a Hindi film director. The dynamic pair of Gauri Khan and Gaurav Verma worked together to create the movie under the auspices of Red Chillies Entertainment. In addition to Nayanthara, Vijay Sethupathi, Deepika Padukone (in a special appearance), Priyamani, and Sanya Malhotra, the cast also features the legendary Shah Rukh Khan in a dual part.
Many moviegoers have been curious about "Jawan," the eagerly awaited action thriller, and have questioned whether it is based on a genuine story. (tvacute) We will delve more deeply into the film's narrative's beginnings and examine the motivations for the rumors about its real-life ties in this section.
Is Jawan (2023) Based on a True Story?
First and foremost, it's important to make it clear that "Jawan" is a fictional work. Filmmakers frequently use real-life incidents as inspiration, but the plot of "Jawan" is carefully designed to entertain and engage audiences with a compelling and innovative scenario.
Comparisons with 'Money Heist':
Thematic similarities between "Jawan" and the hugely successful show "Money Heist" are one of the main causes for the theory that "Jawan" is based on a genuine story. The Spanish television series "La Casa de Papel," which inspired "Money Heist," follows a crew of criminals as they carry out heists on the Bank of Spain and the Royal Mint of Spain. The series is well-known for its gripping robbery scenes and intricate characters.
It likewise explores the realm of heists in "Jawan," but it does it inside its distinct narrative framework. Thematic components like high-stakes heists and meticulous planning have caused some viewers to make comparisons between the two. It's important to understand that these similarities do not necessarily point to a direct connection to actual occurrences. Similar themes and ideas are frequently explored by filmmakers; nevertheless, these similarities may just be coincidences.
'Oru Kaidhiyin Diary' served as an inspiration
Another widely held idea contends that "Jawan" is influenced by Kamal Hassan's classic movie "Oru Kaidhiyin Diary." This criminal drama in Tamil from 1985 centers on a prisoner's diary and the events that surround it. Although it's typical for contemporary filmmakers to pay homage to great classics, it's important to see "Jawan" as a distinct story that can stand on its own.
A Unique Narrative:
"Jawan" promises to present an original and suspenseful story. Shah Rukh Khan plays a character named Vikram Rathore who is committed to atoning for his mistakes in the film. Vikram commandeers the Mumbai Metro and leads a group of six expert ladies in a series of robberies across the nation. When Vikram learns that his long-lost son, Azaad Rathore, is an upright police officer being hunted by his arch-enemy, Kalee, the fourth largest arms dealer in the world, the movie takes a dramatic turn. This information sets for a thrilling, high-stakes confrontation.
The complex and tense plot of "Jawan" exemplifies the power of narrative in the film industry. It may share some themes with other works, but it does so inside a unique and original narrative structure.
The Role of Cinematic Coincidences:
It's critical to recognize that in the world of filmmaking, coincidences can cause theme overlaps across various films and television programs. Creative teams, including directors, writers, and authors, frequently draw on a pool of customs and cultural experiences. As a result, movies may share similar themes without making a conscious effort to mimic or duplicate the stories of other movies.
The Fierce Women of "Jawan"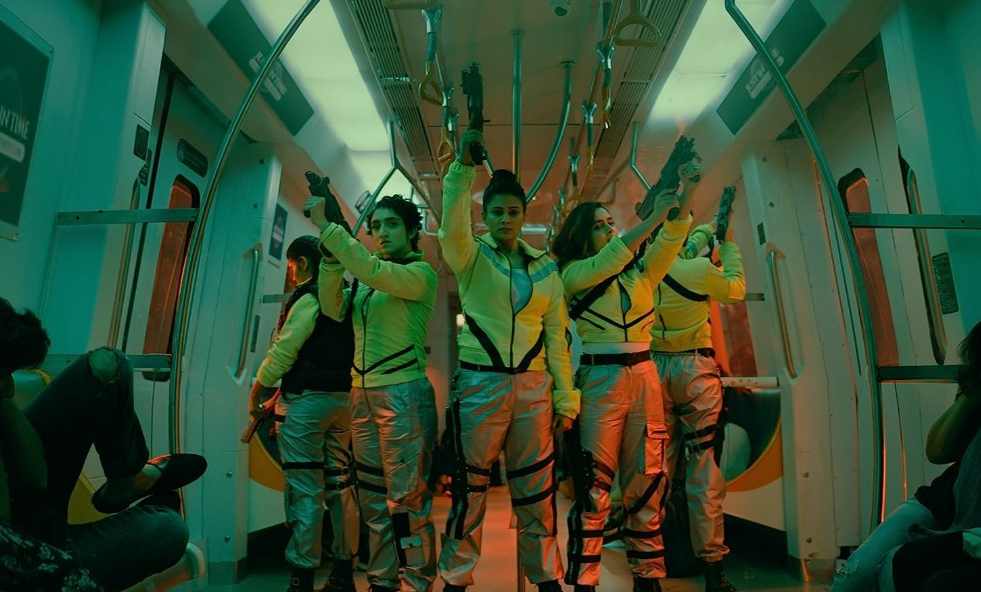 Sanjeeta Bhattacharya and the other six strong women on the "Jawan" team are highlighted, which is one of the film's most notable features. Their inclusion in the movie has greatly increased audience interest and conversation. Sanjeeta Bhattacharya acknowledged her significant contribution to the film and claimed to be an integral member of Shah Rukh Khan's crew.
The presence of strong, independent female characters is evidence of how Indian cinema is developing. It symbolizes a larger shift in storytelling, where women are no longer only cast in stereotypical positions but actively participate in exciting scenes and crucial plot developments.
A Special Story with Shah Rukh Khan's Perspectives
The dynamic lead actor of "Jawan," Shah Rukh Khan, participated in a Twitter 'Ask Me Anything' session with his followers and the interested audience. He presented fascinating information and insights into the much-anticipated movie during this interactive event, giving the audience a clearer understanding of its purpose and what to anticipate.
Shah Rukh Khan was questioned by a fan who made a thought-provoking comment regarding the moral lessons that might be drawn from the movie "Jawan." The actor's response clarified the movie's underlying themes. He clarified that the film examines people's ability to transform their environment for the better. It underlines how crucial it is to support and advocate for the rights of women. This realization gives a hint about the storyline of the movie, which reinforces the concept of female empowerment by showcasing a group of strong and competent women.
Now time to go and take a bath!! Ha ha. Been just happy conversing with you all. Thank u for the love for #Jawan see you all in the theaters….Bas 4 Dun aur. Book your tickets as and when u get time. Love u all.

— Shah Rukh Khan (@iamsrk) September 3, 2023
Another interested person asked for a sneak preview of the movie before it was released in the world of spoilers. Shah Rukh Khan jokingly urged audiences to be on time and not miss the movie's start while maintaining the suspense. The film's opening sequences are expected to be exciting and set the tone for the entire movie experience, so this cryptic reaction heightens the interest surrounding them.
During the event, Shah Rukh Khan also added a personal touch by disclosing the song that his youngest son AbRam loves the most "Jawan." He made reference to a stunning Lori who appeared in the movie and spoke to his son. He also included his own favorites, including "Chaleya" and the movie adaptation of "Not Ramaiyya VastaVaiya." These details lend a level of realism to the actor's involvement in the project by providing a view into his relationship with the film.
Conclusion
The movie "Jawan" is not based on a true story, to sum up. It is a piece of fiction that has been painstakingly created to provide viewers with a thrilling cinematic experience. It's crucial to recognize "Jawan" for what it is—a unique and inventive tale that promises to thrill and engage audiences with its compelling storyline and top-notch performances—despite the fact that it shares thematic elements with other works and has sparked rumors about its influences. Viewers can look forward to a fascinating journey into the world of heists, suspense, and high-stakes drama as they impatiently await the film's debut.