A Savannah Haunting, a horror movie written and directed by William Mark McCullough, centers on a family who relocates to Savannah, Georgia in order to forget the tragic drowning of their little daughter Alice, one of the twins. The mother suspects her dead daughter is haunting her after experiencing terrifying occurrences in their new house. As connections to Savannah's harsh slave history and its long association with Voodoo are discovered, they learn that a more sinister force may be at work, but it could be too late for their family to survive. Gena Shaw, William Mark McCullough, Tommi Rose, Anna Harriette Pittman, Dean West, and Simbi Kali are among the cast members of this spooky supernatural movie.
The movie "A Savannah Haunting" has been screened at film festivals all over the world, where it has won a number of accolades, including Best Feature at the Atlanta Horror Film Festival among many others. Additionally, it was the first Savannah-produced movie to screen at the SCAD Savannah Film Festival. It was released on Oct. 28, 2022. Things like ghosts and other paranormal occurrences are given a lot of screen time in the film. So, it's only logical to wonder if the horror movie is grounded in reality.  Is A Savannah Haunting Movie based on a true story? You have come to the right place at tvacute.com to get answers to all these.
Is A Savannah Haunting Movie a True Story?
Yes! the film is based on true events. William Mark McCullough wrote and directed the film. The events that inspired them actually happened to his family when they were residing in the same home (McCullough's father's home) that was used for filming and that they also asked readers to spend the night in. Go to the movie's website for further details. Director McCullough spoke candidly during a 2021 October interview with Connect Savannah, saying, "After Alexis got here horrible things started happening to her and she said 'hey what's going on?' The things that happened to her staying in the house were things that happened to many people through the years. She told me I should sit down and write the script for the film using the real experiences that happened here."
In 2013, McCullough took Nelson's advice and wrote the script for "A Savannah Haunting." Deciding it was the best way to bring authenticity to the screen, the pair chose to film the movie inside the actual house. But, their decision didn't come without consequences.  So many local Savannah residents, businesses, and other organizations got together and provided us with enormous support, which allowed them to produce the movie.
McCullough said that the process of filming the movie was both exciting and difficult.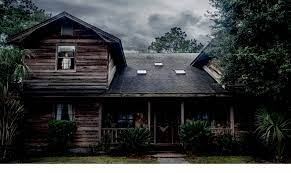 When they were filming, their cast and crew experienced some truly terrifying things. Initially, They had two crew members residing at the home, but after a week, they both moved out. They said that they simply couldn't sleep at home. McCullough recalled, "We even had crew members threaten to leave. McCullough and his crew made the decision to also record a documentary about the haunted house's history while they were filming the movie. To conduct some research, they hired a number of experts, including mediums, historians, and experts on the occult and paranormal. And some fascinating things emerged.
The eerie movie, which was shot on location in a real haunted house where many had terrifying experiences for years, depicts a woman who is struggling with guilt following her daughter's fatal drowning. As mentioned above the story was filmed in McCullough's real Savannah home which his father bought there in the 1970s and where he had paranormal experiences adding to the story's believability. He lived largely with his mother because he was a kid of divorced parents and was not a full-time resident of the contested property. However, when he was a child and used to visit his father, a lot of eerie and strange things used to happen in the house, which he brushed under the rug by coming up with plausible explanations for. He returned to the mansion and spent a considerable lot of time there after completing his studies away from Savannah and becoming an actor, which terrified him. McCullough reportedly hadn't discussed these experiences with anyone. Soon, his close friend and the movie's co-producer known for Fast Five, Alexis Nelson began visiting him on a daily basis, and she wasn't afraid to bring up the subject