There are numerous major events that occur at the end of the second season of "How I Met Your Father" that affect Sophie and the other characters. In the first act of season 2, Sophie first encounters Barney Stinson, a returning Neil Patrick Harris from "How I Met Your Mother." Following this experience, Sophie decides to track down her biological father. For a detailed explanation of everything that happened in How I Met Your Father Season 2 Episodes 19 and 20  continue reading the recap at tvacute.com.
How I Met Your Father Season 2 Finale Recap
In the second part of the season, Sophie (Hilary Duff) locates her hot dog shop-owning father, Nick. When Sophie learns that her parents have already reconnected and have been dating for a few months, her search for her father takes an emotional turn. Sophie accepts their connection, at least temporarily, despite her yearning for a happy family.
Sophie lands a position as an internal photographer with Goliath National Bank, leaving her infrequent freelance work behind as she moves forward with her personal path. She still has feelings for Jesse (Chris Lowell) romantically, but things get complicated when he starts dating someone else. Sophie runs into Ian, who used to be her boyfriend but is now engaged.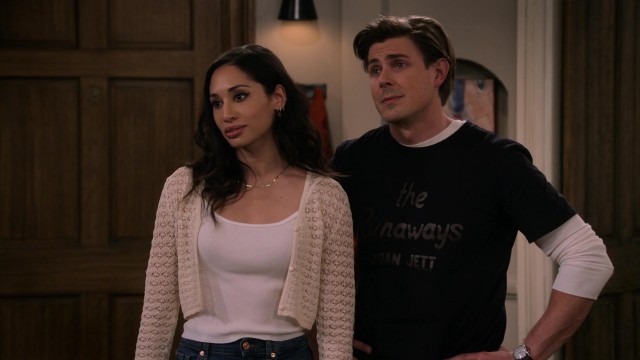 Sophie falsely accuses Parker, Jesse's new girlfriend, of a number of transgressions in her effort to find anything wrong with her. She later sees her error, though, and is ashamed. When Jesse says he's moving in with Parker, things get worse, and Sophie realizes she and Jesse haven't been honest with each other about how they really feel.
Tensions among the friends increase during a hurricane, and Sophie and Jesse get into a contentious disagreement. But as the storm intensifies, Jesse returns to Sophie and admits that he still loves her. They exchange an intense kiss in the rain as a representation of their reconciliation.
The show also looks into the lives of the supporting cast members during the season. Due to their disagreements, Ellen (Tien Tran) and her lover Rachel break up, and Valentina (Francia Raisa) becomes involved in a wedding she doesn't want to be in with a young man named Swish. The engagement is ultimately called off by Valentina, and it is shown that Swish goes on to succeed and amass a fortune.
Sid becomes envious of Hannah's time spent with a resident named Eli, which causes problems in their long-distance marriage between Hannah and Sid. Sid has a passionate relationship with Taylor in the meantime. When Hannah admits to kissing Eli, their relationship hits a breaking point and their marriage is called into question.
The season finale also makes mention of possible candidates for Sophie's son's father, with Jesse standing out as the most plausible choice. Sid, Ian, Drew, or an unidentified figure might possibly be the father, the show suggests, leaving room for debate. The identity of the love interests for the supporting characters, as well as the course of their relationships, are left unresolved.
The epilogue leaves the audience with the realization that love is complex and erratic. Since "How I Met Your Father" has not yet received a third season renewal, viewers are left wondering about the characters' upcoming adventures and how the major issue of Sophie's son's father will be resolved.