The most important takeaway from the Gaslit series conclusion wasn't even about who served time or won forgiveness. It was only one thing: Martha was correct. However, Martha's life was irreparably torn apart as a result of the scandal and her following testimony, as she desperately tried to make things right with her daughter, Marty, and learn to adapt to her new, somewhat lonely life. After the mark of Watergate was imprinted on American history, Martha's story rather than tragedy, and delves into Winnie's final apology, the dangers of fanatics like G. Gordon Liddy.
Gaslit Episode 8 [Finale] Recap
Agents Magallanes and Lano continued to hunt for the remainder of the guilty group, including Martha Mitchell's now-estranged husband John, after a scramble to acquire damning audio tapes in Washington. And as the hammer continued to fall, it became evident that what Martha had said about Nixon, both publicly and to the Senate, had been accurate. In this episode, we finally get to see Nixon. He acts as if he's farting all over our democratic system. . Nixon is nearing the conclusion of his term. Nixon's administration crashed like a house of cards and stunned the nation.  Agents from the FBI apprehend John Mitchell, who claims it might be worse. he may be condemned to live in prison with Martha. Martha is alone in the doctor's office because she has a fractured wrist. She pays a visit to her journalist friend Winnie at The Washington Post, where she receives Martha's completed book. The contract with the publisher was canceled, but the book was completed! For the time being, Winnie is unaware that Martha is ill, but she agrees to make an embarrassing appearance at her daughter Marty's birthday party because she is a good friend.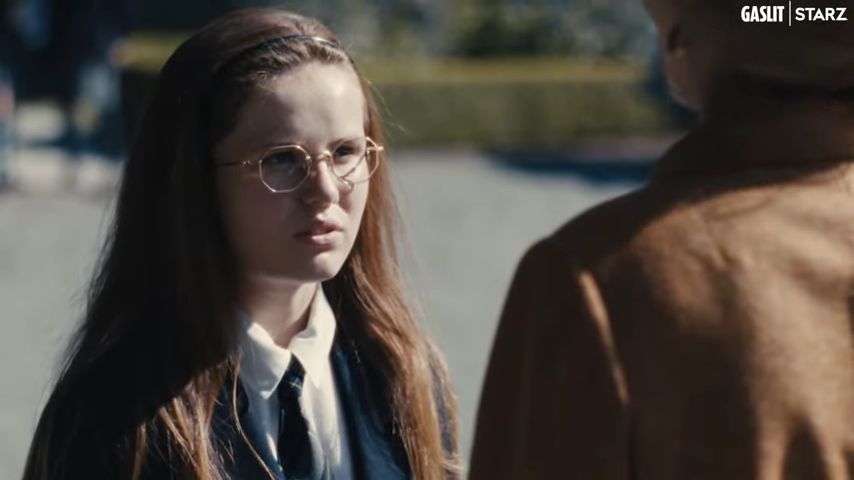 Martha is still at The Watergate flat, but she is in a state of disarray. her wedding ring is still on her finger. She cleans herself up enough to greet Winnie and the photographer from Life Magazine who is coming to photograph the birthday party. Winnie apologizes to Martha on the way to the party, saying she acted as if she believed her narrative, but she isn't sure she did. Martha takes at least three Diazepam in a gas station bathroom. When they get to Marty's school, Marty orders Martha to leave right away. She doesn't want her or the photographer there, and she's probably perplexed as to why this journalist was invited, which is understandable. Martha is tripping, and when Marty accuses her of being insane, she slaps her and then bursts out laughing. Winnie assists her into the car, and the two of them go to the hospital because Martha's nose has begun to bleed.
Meanwhile, the Nixon Boys are getting theirs in a big way. They're also using shovels and pickaxes to excavate something unknown, but they get to hang out together. They also get to deliver a soliloquy about a billboard featuring Nixon's face. Dean claims that they are all Nixon and will remain Nixon after he dies. This is in response to Dean's previous blunder in the automobile with FBI agents Lano and Magallanes. When Lano wonders why Dean committed all of this illegal shit for a president who would throw him under the bus. Dean claims that knowing about this incredible seat foam that he was told was installed in all of the seats on Air Force One caused him to ruin Americans' faith in their government.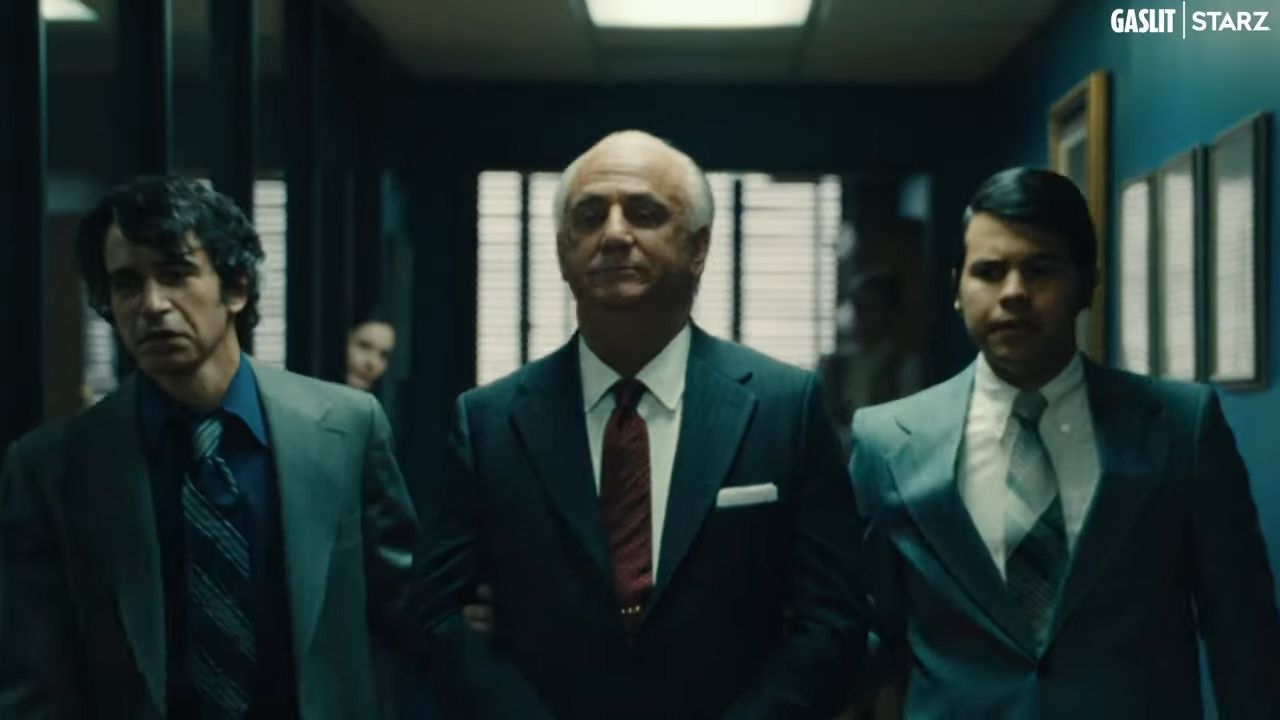 Liddy is again asked to testify against Mitchell, but he has remained mute throughout all of his previous depositions. When the prosecutor asks if he remembers the Operation Gemstone meeting, Liddy begins quietly singing. Liddy is taken from the courtroom and placed in an unreasonably small room with John Dean. There's his attraction to Hitler, the time he almost killed John Dean with a pencil, and the time he ate a rat to show the other rodents who were boss in this selection of excerpts from his memoir. John Dean is released from prison. He feels bad about getting out early, he only served four months, and when he wonders why he was the only one who got out uninjured, Mo answers, "John, you are good-looking."
How Did Martha Mitchell Die in the Finale of the Gaslit Series?
Martha has been admitted to the hospital. When Winnie screams at the doctor, he tells her that Diazepam isn't for nerves. Winnie tells Martha that she knows Martha has bone marrow cancer, and it's progressed to the point where it's in her blood, as Barbara Jordan delivers her brilliant speech in the background. The bond between Winnie and Martha is wonderful, especially when you consider how lonely Martha would have been without Winnie. She's alone regardless, but at least she has her pal with her on occasion. Mitchell later informs Marty that while people like Martha are well-intentioned, they sabotage their relationships with those who love them the most.
Winnie arrives at the hospital in search of Martha as Nixon delivers his resignation speech. She finds her carrying a baby in the nursery after some frantic searching. Now that Martha's son is assisting her with her care, she has at least two people on her side. Martha died at the age of 57 and was laid to rest at Pine Bluff, Arkansas. Mitchell was imprisoned for 19 months. Dean and Mo haven't divorced yet. We come to a close at Martha's funeral, Marty marvels at a large flower arrangement that says, "Martha Was Right," as they depart the funeral.