"Starry Nights," the twelfth episode of "When Calls the Heart" Season 10 captures viewers' attention with a sequence of dramatic occurrences that pave the way for the next phase of Hope Valley residents' lives. The episode deftly blends political intrigue against the backdrop of Election Day, heightening the tension around Lucas's victory party. The main focus is on the unresolved tension between Elizabeth and Nathan which adds to the realism of the love triangle dynamics. The major cliffhanger finale leaves fans teetering on the brink of eagerness for Season 11.  tvacute.com looks at the conclusion and recap, let's go down the key elements that made this episode of the show stand out.
When Calls the Heart Season 10 Finale: What Happened to Lucas? Is he dead?
When Calls the Heart Season 10 Episode 12 Recap
The episode begins with Elizabeth Thornton (Erin Krakow) and Lucas Bouchard (Chris McNally) in the aftermath of their devastating split. Lucas has been out of town since the breakup and is working hard to unseat the dishonest governor, Bixby Balfour, and save Hope Valley. Memories of Lucas are still very much alive in the town, as campaign banners and residual feelings show. Hope Valley is still reeling from Elizabeth and Lucas's broken engagement, and tension is building as Election Day draws near.
Elizabeth is still committed to making sure Lucas wins the election, even in the midst of her personal agony after her split. Election Day falling on the day that would have been her wedding day gives the proceedings a more sentimental touch. Leading the get-out-the-vote campaign on Lucas's behalf is Rosemary (Pascale Hutton), who emphasizes her steadfast support for the candidate she feels can improve Hope Valley.
The episode gains a layer of political intrigue from the election plotline. Using Rosemary and Elizabeth to run the polls, the audience is taken through the highs and lows of the campaign. The town comes out in full force, but Rosemary finds that twenty people have not submitted their ballots. Determined to find the slackers and guarantee their involvement, she sets out on a mission. The voting process's meticulous attention to detail gives the plot more authenticity and urgency.
The election results are a source of both anticipation and relief. Lucas triumphs, winning by a mere twenty-one votes. But the joy is short-lived because Lucas is about to have an enigmatic encounter outside his campaign headquarters. The mystery surrounding the identity of the person facing him keeps viewers on the edge of their seats and creates a sense of tension.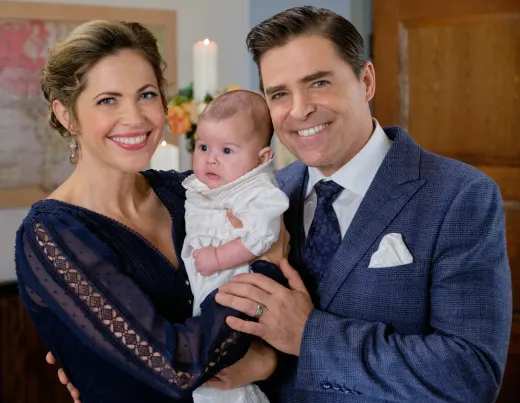 As Rosemary and Lee Coulter (Kavan Smith) get ready for their daughter Goldie's baptism, another important subplot develops. After some debate about the choice of godparents, Lee makes an unexpected offer. Although greeted with skepticism, Lee's trust in Henry's development and atonement serves as the foundation for his proposal to name Henry Gowen (Martin Cummins) as the godfather. In this episode, Henry's character arc revolves around this decision.
It is difficult to persuade Henry to accept the role of godfather. Henry is reluctant to accept the duties of being a father and godparent because of his regrets from the past. Henry has a pivotal conversation with Elizabeth, who stresses the importance of forgiveness. His decision to take on this part is a crucial turning point in the development of his persona from the enemy of the community to a man in need of atonement.
The redemption of Henry has been a blessing this season. 🙏 Seeing him babysitting Goldie was a true treasure! ❤️ #Hearties #WCTH #HenryGowen pic.twitter.com/QPjvftjTWw

— SCHeartHome (@SCHeartHome) October 11, 2023
As Henry opens up to Elizabeth about his past and the weight of the mining disaster, the episode takes an intense turn. Henry's transformation into a different man is acknowledged by Rosemary and Lee, who provide a kind and perceptive welcome into their family. Henry's character arc comes to a satisfactory conclusion with this act of forgiveness, which releases him from the great load he has carried for years.
The episode ends with Henry choosing, in an unexpected turn of events, to get in touch with an old acquaintance, Abigail Stanton. Fans of the show get nostalgic when they hear about Lori Loughlin's character Abigail. This sequence serves as a reminder that Abigail is still present in the Hope Valley universe even though it doesn't guarantee her return to the program.
The story is made more complex by the supporting characters' romantic involvement. A roadblock to Mike's (Ben Rosenbaum) and Mei's (Amanda Wong) developing romance arises when Mike inadvertently sets her up on Election Day due to turmoil. In the midst of the political and emotional drama, Faith (Andrea Brooks) and Fiona (Kayla Wallace) step in and lead a passionate statement of mutual affection, creating a sweet side story.
Resolution is reached in Bill's (Jack Wagner) quasi-romance with Madeline (Stefanie von Pfetten). Bill makes vague allusions to being a bachelor during a talk with Nathan (Kevin McGarry), but Madeline's unannounced visit on election night adds a degree of mystery. Despite owning up to her previous transgressions, Madeline reveals her strong bond with Bill and Hope Valley. Viewers are left wondering if their love will perhaps be rekindled after watching the episode.
Nathan's persona plays a significant part in the romantic triangle. The attention now turns to Nathan and his interactions with Elizabeth as Lucas is no longer involved. When Nathan questions Elizabeth about her plans, the unspoken tension between them becomes apparent. Elizabeth rejects Nathan at first, but after he tries sincerely to understand her, she has a true repentance moment. Their relationship's intricacies give the story depth and allow for more developments in the future.
Elizabeth's emotional journey and her thoughts on love and grief are explored in depth in this episode. She openly discusses her unresolved sentiments for her late husband and the difficulties of moving on while at Jack's grave. Her character is made more complex by the understanding that she might have selected Lucas as a "safe" option to prevent more heartache. Elizabeth's internal conflict comes to light as the show goes on, especially in her encounters with Lucas and Nathan.
When Calls the Heart Season 10 Episode 12 Recap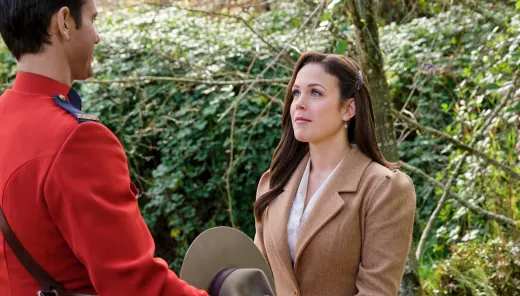 A moment that transports us back to the famous location where Nathan confessed his love to Elizabeth in Season 8 closes the finale. Nathan approaches Elizabeth as she sits by herself on a log, sparking speculation about a possible romantic disclosure. But before any confessions can be made, Bill breaks the tension by informing them of some crucial Lucas news.
A suspenseful element is introduced by the cliffhanger finale, which also begs serious concerns regarding Lucas's safety. The unclear altercation outside his campaign headquarters has viewers wondering what kind of danger this is. There are a lot of unanswered questions and a sense of expectation in the audience as the show ends.
The unsolved conflict regarding Lucas's destiny contributes to Elizabeth's emotional journey's complexity. The Season 11 story will probably be shaped by the cliffhanger, so viewers will be anxious to see how this surprising turn of events plays out.
In conclusion, "When Calls the Heart"'s Season 10 finale offers a satisfying resolution, intriguing character growth, and a thrilling cliffhanger. The complex web of interpersonal ties, political intrigue, and personal development keeps viewers engrossed in Hope Valley's citizens' lives. The unanswered questions and complex character relationships in Season 11 offer an exciting continuation of this adored show.
When Calls the Heart Season 10: Will Chris McNally (Lucas Bouchard) Be Leaving?