The ninth episode of Evil's third season is, as expected, outstanding, but after this one, there will be just one more episode in the season. It's going to be tough to let go while we wait for Evil Season 4 because there are so many loose ends to tie up before the show's conclusion! In this episode, the girls are online looking at a grocery store. David extends an invitation to Kristen's birthday party. Meanwhile, Kristen's initial call was placed to Kurt, who is now conveniently controlled by Leland. And she paid a visit to Kurt. Even though she is far too shrewd to fall for any shenanigans he may have planned to subject her to, it was nevertheless difficult not to worry for her. she is also aware of the shift in attitude that Kurt is exhibiting, but she is blind to Sheryl's transformation. Because of their strong relationship, Sheryl is required to assist the children on a regular basis. She is willing to look past Sheryl's shortcomings in order to satisfy her own requirements. There is no reason why DF stock caused a devil to follow its investors. Let's read 'Evil' Season 3 Episode 9 recap. To find the answers.
'Evil' Season 3 Episode 10 [Season Finale] – Demon of the End
'Evil' Season 3 Episode 9 [The Demon of Money] Recap
Kristen is once more seeing Kurt. She must discuss what transpired when Logan ripped Valerie apart. Kurt is speechless after learning the entire story. However, Kristen regrets to report that she felt some relief. She finds that concept abhorrent. Kristen feels anxious. She is contemplating darker ideas. She is unable to speak to Andy. She fears he won't ever come back, which might be easier in some ways. She is reassured by Kurt that thoughts are not deeds. Kristen, however, believes that she makes wishes, and then they actually happen. Kurt claims it is egocentric for her to believe her opinions have an impact on the outer world. And that's when Kristen sees his bleeding hand. By shaving, he cut himself. She inquires as to how he shaved the backside of his hand, and he replies, "Oh no, I stumbled. advancing years" Kurt claims that his back is also healed. He's behaving oddly. After that, he recommends weekly treatment.
David is in berth 22 at East Cove Marina. He invites Kristen to come along. Kristen has to understand what's going on since Kurt starts playing his record just before she leaves. She worries about his well-being. He desires that she read his book. He needs advice. She accepts. Ben and David meet Kristen at the marina. Before boarding the yacht, they receive wristbands. Kind of hidden inside is a man. He has papered over his windows and shuttered them. He believes a devil is present. He offers some of the $11,000 bottles of wine he is sipping on his own to the group. No regardless of where he goes, a monster is always after him. David first accuses the wine, taking it out of his hand. His small investments eventually became quite successful, and the devil began to pursue him. The great news is that he captured it on camera. It features a frightening man whose gait stutters and who has an intermittent electric field around him. The man managed to board the boat and spent the entire night trying to enter his room by going down and up the stairs.
The Demon of Money #EvilSeries pic.twitter.com/EB3nqyRoA8

— Evil (@evil) August 7, 2022
David and Kristen conclude that the IRS is attempting to frighten him. Finally, David questions how an IRS agent might be tampering with the electrical. Victor phone calls David. Grace requires him. Priests are carrying boat floating into the church when David arrives. She is being forced to translate paperwork by priests, who also give her balloons to play with. They are aware that her visions are triggered by explosions. David is the one person who can give her the respite she needs. They kick a large beach ball around the room as they converse. Grace takes out a file as soon as she notices David's wristband. The Royal Sigal, one of the significant, is connected to the bracelet. Her vacation is ended.
David wants her to take charge of the situation since they need her more than she wants them. She says it's uncertain whether he'll be allowed to make a second visit. David gives Mr. Treza the symbol. He is carrying a pen with the image on it. He received it from a daytrader when he worked as a teller. She greatly profited from it. The pen belonged to her uncle. She seemed to have shrunk, as she puts it, or lost everything. She said that a shadow followed her on the night she made a large score. He kept returning as her stocks were increasing. The issue vanished after she gave everything away. In order to get rid of him, she had to swear poverty. It was explained to her by her uncle. He too was being followed. Tamara delivers them to her uncle, who is in a wheelchair and wears an eyepatch and gauze on his nose. He continued to follow after giving away everything he had purchased. until he realized he had paid for lasik surgery and a nose job with some of the money. He had to return everything, even the breast implants his wife had.
The concept of getting rid of everything in order to get rid of the monster doesn't excite Henry. David believes that giving everything away is the simplest course of action, but when Kristen informs him of the uncle, Henry freaked out. He has hair plugs in. He funded the hip surgery for his mother. Should he simply rip that out? Kurt's card was almost given to him by Kristen, but she decides against it. Henry asserts that there must be an alternative. On the video, Ben asks his sister for assistance. She has answers, but none of them are helpful. However, neither of them gives the scataccato walk a second thought. David is requested to assist Grace. She has completely stopped speaking. David advises her to look for housing with kids.
When Kristen receives a call from David, the girls are online looking at a grocery store. He extends an invitation to Kristen's birthday party to himself, Grace, and the holy group. She will soon be in the ball pit since they adore her. Laura is informed by Grace that her father will return home on Thursday. She is inspired by being in the pit and completes a century's worth of labor in a single day. When Kristen glances at the book, she finds nothing but gibberish. She grabs it and holds it up to the mirror with one of her daughters. They are the focus. Henry's alarm sends Ben a notification. He is in his room at the moment. Henry is face down in the water with the cops there when Ben arrives at Henry. Police said he planned his death so his relatives would receive the insurance and that's why they called it a suicide. Since the man was rolling out dough, it makes no sense.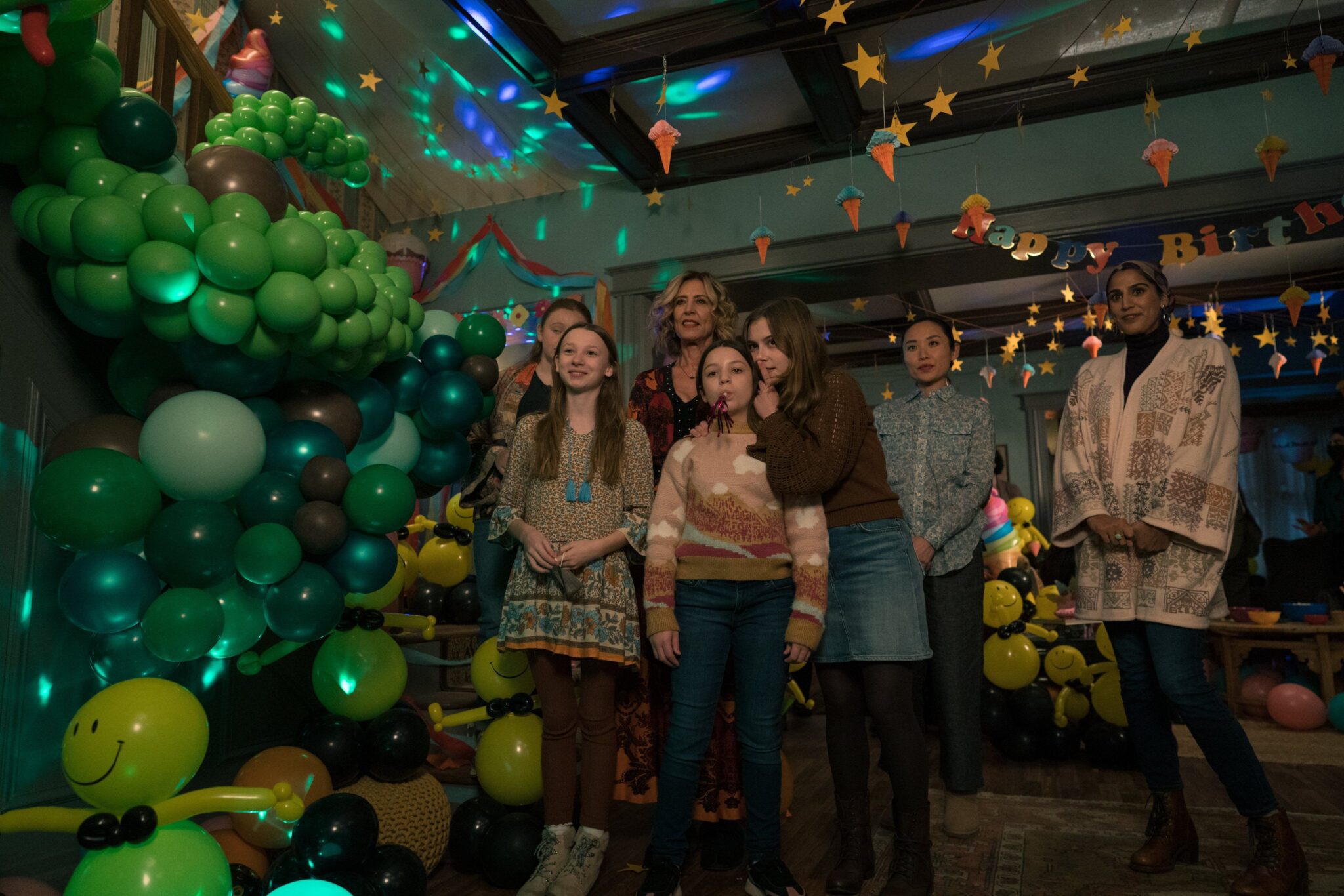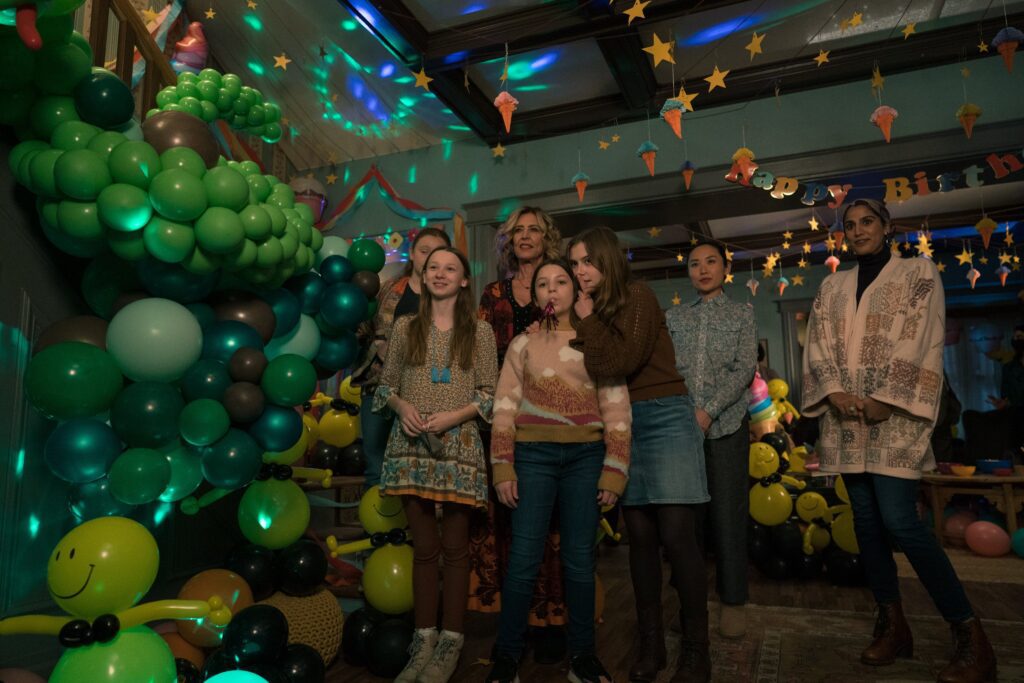 The girls, David, and Ben organized a celebration for Kristen. Grace, the priests, and Sheryl are all present. Grace changes when she first meets Sheryl. She promises not to hold her responsible for tomorrow night. OMG. I understand that Andy will be killed tomorrow and returned in a corpse bag. Kristen expresses gratitude to Grace for informing her that Laura's soul will mend since it did. Kristen then inquires about Lexis. She won't experience behavioral difficulties in the future, but Grace sees Andy and draws where he is in the picture. Sheryl records it on camera. Karima purchased some DF stock. She now has a devotee. It is undefinable. It is merely a number. Ben immediately assumes that someone is playing tricks on them. David believes they have been approaching this in the wrong way. A Ring situation is this. One week. Bullshit, according to Ben. He wants Karima to transfer the demon to him and give him the stock tip. When Sheryl brings the photograph, Leland is reading The Coming Civil War and chuckling. Grace Ling is bad news, claims Leland. Leland takes a blade out of his hidden cabinet.
The stranger is behind him when Ben turns to glance around as his paranoia increases. Ben advances toward him. Ben accelerated toward his apartment because at first, he was following, and then he was moving further away from him. When Ben gets home, he doesn't notice the figure. In an effort to write, Kurt. He invokes Satan because it isn't happening, but then he doesn't. Stupid Satan! Rather, he gives Kristen a call. He is ecstatic that the girls enjoyed it. It's about a girl who murders her mother, and she believes he should conclude it with the parts of the body coming together and then ascending.
David and Kristen have been invited by Ben. He is seeking a simple answer. Ben and David are willing to share a room, but Kristen needs the stock tip. The grocery store's tip about the web threat is immediately taken by her. When a creature slits her guard's throat, Grace is in her room praying. This individual is Leland. She reaches for her throat with her hand. She senses it. Leland plays a game of hiding and seeks with her. He's, at last, performing the nasty task himself! She kneels down and prays while sobbing. We have a chance to defeat evil at this time. Will Grace triumph? Leland is stopped when Monsignor comes into the room. The three are engaged in combat. After being stabbed, Monsignor tumbles down the steps, and Leland flees while hurt. The last words of Monsignor were to express his affection to Father Ignatius.