Season 5 of Elite is now available to view on Netflix, and many fans have already begun binge-watching one of the best teen shows on the service. Elite has a cult following that can't get enough of it. The show is known for its drama, tension, and romance. Every season opens with a primary mystery that immediately draws you in. The fourth season of Elite concluded on a high note, and the fifth season continues the tale where it left off. You've come to the correct place if you need a recap of everything that happened in the Elite season 5 premiere! Here's everything that happened in Episode 1 for you.
When does Netflix release "Elite" season 6?
After the raucous New Year's Eve party, the school has resumed for the pupils of Las Encinas, and things look to be back to normal. New pupils have arrived at the school, and some of our favorite characters are starting to mingle with them. However, troubles are brewing beneath the surface, and the core group will soon be forced to confront them. Prince Phillipe buys Caye a drink at a gathering. However, the lights go off as they toast. Elodie then plays a voice tape of him acknowledging that what he did was wrong, with Elodie accusing Prince Phillipe of rape. As Samuel is being held in detention, a male body floats in a pool, and he is asked if he confesses.
It's the start of the new school year before we can find out all of the specifics of what led to that fateful opening. Benjamin's tough new rules come with the new year. Rebe sneaks into school after being denied access, while Prince Phillipe is harassed by classmates and Caye is referred to as "the rapist's little b***h." Isadora, a new student, comes to his aid. Benjamin invites Samuel to pay Ari a visit, but Samuel remains glum and claims she doesn't want to see him.
Ivan, Elite's second new student, goes to the showers. And, despite his insistence that he is not gay, he says he doesn't mind if Patrick glances at him. Mencia seeks to avoid Rebe after the events of the previous season. When Rebe continues to bother her, Mencia has him removed from Las Encinas, at least for the day. Patrick had sex with Omar after a (further) disagreement with his father, Benjamin. Omar maintains that he is still in contact with Ander, but the fact that Ander has not responded suggests otherwise. Samuel meets with Ari, and since the reunion isn't going well, Rebe proposes they inform her that Armando is in the river.
Elite season 5 Episode 1: Ending Explained
When Ari returns to school, Ivan throws a huge party at his house. It isn't, however, Ivan's party. Instead, it's his father (Cruz, dubbed the world's most renowned footballer) who is having a good time. Isadora overhears Caye and Prince Phillipe discussing something intimate. Isadora then informs Caye that she should support Prince Phillipe. Patrick ignores Omar's text and spends the evening with Ivan inebriated. Later, they get undressed together, but it's unclear whether Ivan is simply following Patrick's example. Cruz walks in on Patrick masturbating after Ivan passes out.
Caye goes on the school television at the end of the season five premiere to admit that while Prince Phillipe made a mistake, he is striving to rehabilitate himself and that forgiveness is required. While it appears to please Isadora, it appears to irritate Samuel. The scene then jumps to the future, where Samuels claims to have murdered him. Is Samuel a murderer, then? Doubtful. Are we even sure that Prince Phillipe is the victim at this point? After all, we never saw the body clearly.
Do Samuel and Ari have a relationship in Elite season 5?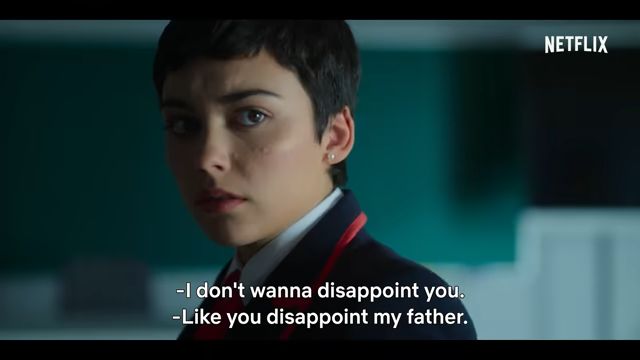 Yes! Samuel pays Ari a visit to her home. He promises Ari that he will be there for her from now on to assist her and help her return to normalcy. Ari inquires about Samuel's willingness to be there for her as a friend. Samuel expresses his desire to be with Ari as a lover. Ari is perplexed by this, and she inquires of Samuel as to why he has been avoiding her if he truly desires to be with her. Samuel had been avoiding her because he was afraid she would reject him, she realizes. They kiss after they embrace.
We then shift to Rebe recommending to Samuel that they tell Menca and Ari that Armando is deceased to help them relax. Omar interrupts their chat, so Samuel doesn't get a chance to respond. Following that, we see Patrick and Menca console Ari, who has returned to Las Encinas. Phillipe later asks Cayetana if she might assist him in leaving Madrid and returning to his homeland. He advises that she inform the school about the limo incident (in which he sexually attacked Cayetana) so that he can be expelled. Isadora listens in on the entire discussion. Isadora approaches Cayetana after Phillipe has left. Cayetana is told by Isadora not to help Phillipe get kicked out of school, but rather to encourage him. Meanwhile, Omar is unable to receive a text message from Ander. Patrick and Iván bond outside of Las Encinas over their absent fathers.