On Dec 15 night's special one-hour episode (Season 2 Episodes 9 and 10 "Christmas Spirit") of Ghosts, Jay's sister Bela and her friend Eric (Andrew Leeds from Zoey's Extraordinary Playlist) arrived at Woodstone to enjoy the holiday. Hetty was worked up watching a TikTok of a hot lumberjack sawing wood, while Trevor (Asher Grodman ) was agitated since he never got his moment with Bela (Punam Patel ). What could two frustrated ghosts Hetty (Rebecca Wisocky) and Trevor do? That Christmas liplock was unexpected! (tvacute.com) Here is all you need to know about the conclusion of Ghosts Season 2 Episodes 9 and 10, in case you missed any of the exciting moments.
Ghosts Season 2 Episode 11: Guest Star Nichole Sakura
Ghosts Season 2 Episodes 9 Recap [Part 1]
The episode opens with Sam (Rose McIver ), Jay (Utkarsh Ambudkar), and the all ghosts watching a television romantic comedy about the holidays. Thorfinn "Thor" despises Christmas and finds the seasonal décor in his room offensive. Sam disagrees since he loves Christmas. Thorfinn disapproves of people making decorations that make fun of and parody his culture. Bela, Jay's sister, will be spending the holidays at Woodstone Manor. Eric has been brought to the Manor by Bela. Sam and Jay enquire as to Bela and Eric's romantic status. They have been pals for a very long time and are not dating, Bela chuckles. Bela doesn't care for Eric since she feels that he is overly devoted to her and doesn't enjoy how he always lends a hand. Sam is motivated to set up a real-life rom-com and bring Bela and Eric together.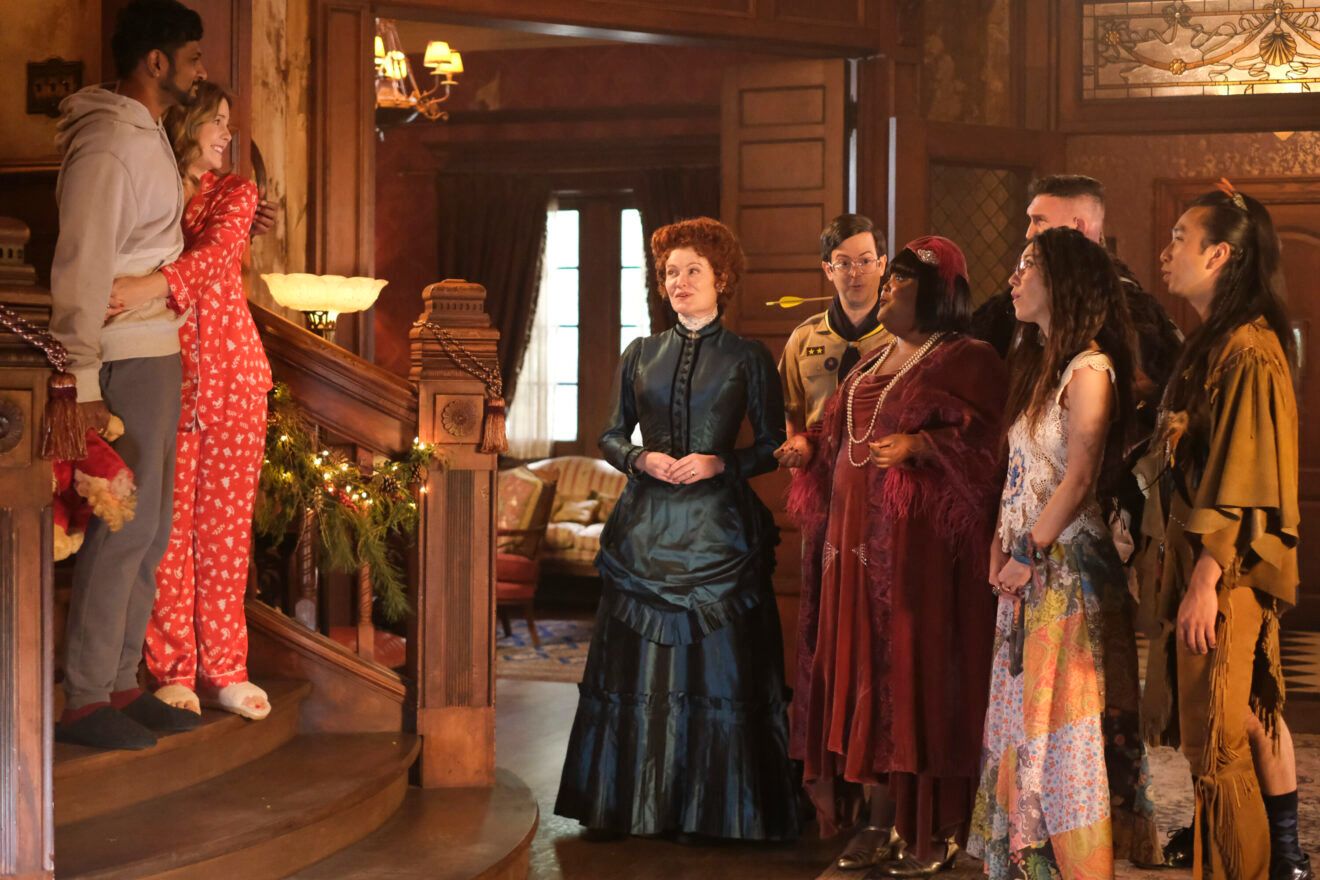 For Christmas morning, Sasappis, Alberta (Danielle Pinnock ), Pete, and Flower want to sing carols to Sam. Captain Isaac (Brandon Scott Jones) reveals that Nigel and he haven't had a kiss since they began dating several months ago. Nigel and Isaac claim to be moving at their own pace. Trevor is annoyed by Sam's efforts to introduce Bela to someone. He's still drawn to Bela. Sasappis devises the plan for Trevor to take over Eric's body and inhabit it so he may be with Bela. Sam devises a plan to entice Bela and Eric to fall in love by having them build a gingerbread house. Trevor and Sasappis persuade Alberta and Flower to participate in their scheme to possess Eric as Sam exits the room. To begin with, Trevor texts Bela. Sam is advised by Jay to ask Eric to cut wood outside because Bela enjoys watching films of woodsmen. Sam learns she is not a part of the "main" family group thread. Bela receives the message that Trevor sent. She consents to the scheme to possess Eric. Jay is tricked into telling Bela about his encounter with possession and how it occurred to him.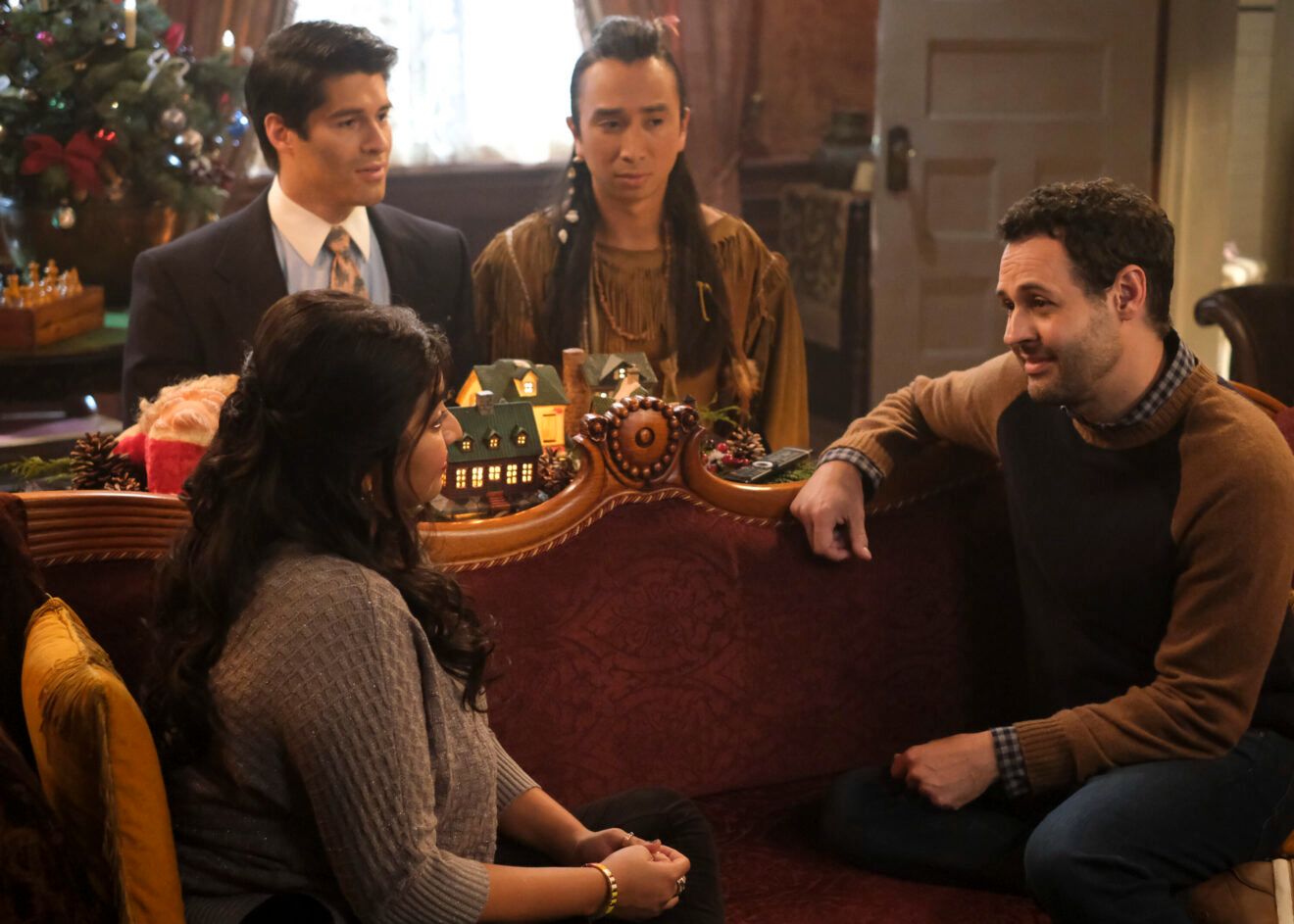 Pete calms Isaac's fears about kissing Nigel. After Alberta rejected him, Isaac exhorts Pete to keep trying.  Sam is informed by Bela that she saw something have place between the couple over the long weekend. Bela tells Eric the truth about Trevor and the ghosts when Sam leaves the room. In order to make it happen, she asks Eric if he'd allow Trevor to take over his body and be electrocuted. To give Bela a gift, Eric reluctantly consents to being possessed. Isaac and Nigel manage to go under the mistletoe. Instead of kissing Nigel as he would have liked to, Isaac facepalms him out of reflux. Since Nigel doesn't believe Isaac is ready to date, the relationship is ended. Bela teaches Eric how to get electrocuted and become possessed while Jay and Sam get ready for bed. Before they can execute their plan, Sam catches them. During their dispute, Jay criticizes Bela for her succession of unsatisfactory relationships. Sam tries to reinstall the lamp on the wall on Christmas Day. Thorfinn (Thor) imprisons her and electrocutes her. The ghosts are prevented from singing "Silent Night" by "Sam."
Ghosts Season 2 Episodes 10 Recap [Part 2]
Thorfinn is content to be in Sam's body right now. Sam tells Sasappis that she has been possessed when she regains consciousness. She is persuaded by Sasappis to let Thorfinn take the body and live another day. Thorfinn regains command. Thorfinn and Sasappis /"Sass" (Román Zaragoza) turn to Hetty for suggestions on how to maintain control for a while. In exchange for more movies of hot woodsmen chopping wood, Hetty offers to assist. They concur and activate triggers to release the object. Isaac frequently has dreams in which his wife and Benjamin Franklin accuse him of being a "great huge gay liar." Eric left Woodstone Manor, according to Bela, and returned to the city. Jay is informed by Bela that she truly connected with Trevor. Jay is informed by Thorfinn that Bela was treated unfairly. Thorfinn is persuaded by the ghosts to persuade Jay to return Eric to Woodstone Manor. Thorfinn learns that Sam's body still allows him to use his ghostly abilities. Thorfinn enjoys his very first Christmas cookie. More tips regarding delicious Christmas fare are provided to Thorfinn by Pete, who also discusses the various advantages of the season, such as spending time with family.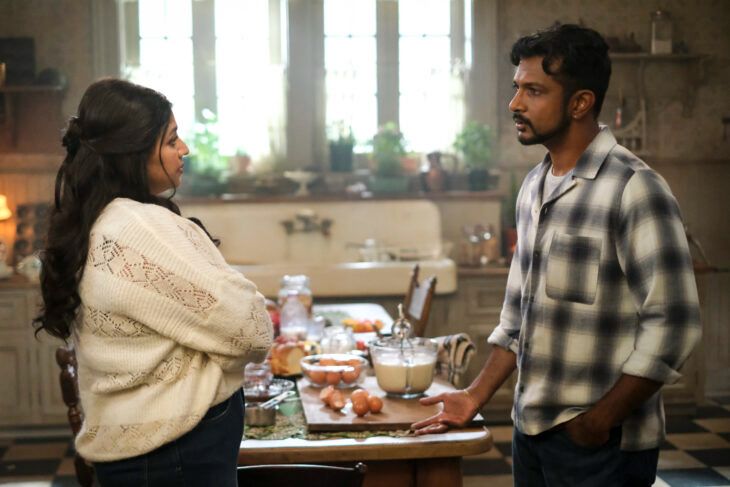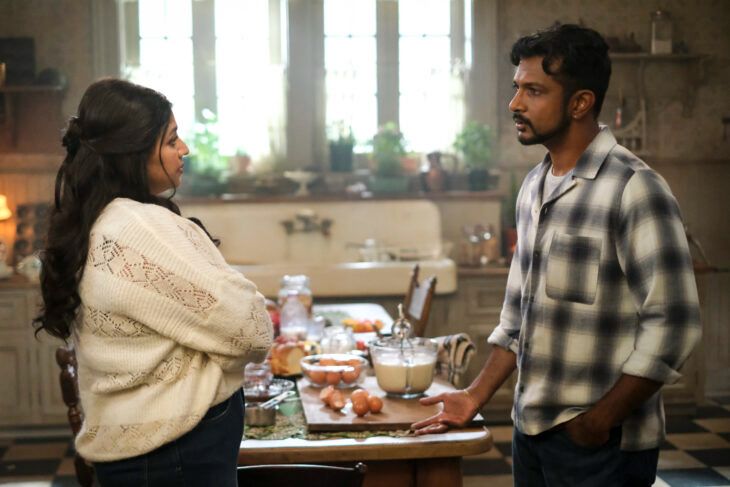 Just in time to speak with Eric, Jay arrives at the railway station. As soon as the strange words Jay mentions are heard, a heckler starts speaking up. Isaac tells Alberta, Flower, and Pete about his nightmare. Alberta believes that Isaac is regretting lying to his wife Beatrice and not telling her the truth about his sexual orientation. The movies of wood-chopping are quite popular with Hetty. Sam and Jay bought presents for the ghosts, which Bela learns. Thorfinn discovers a ship inside a glass bottle as he opens his gift, and he adores it. Eric and Jay return to the residence to carry out the prank. Eric does not become possessed by Trevor; instead, he is electrocuted and passes away. He doesn't die; his spirit remains at Woodstone Manor. Jay rushes to shock Eric's body with a defibrillator. Eric is shocked back to life by Thorfinn using his electric abilities.
Thorfinn admits to Jay that he is using Sam's body as his own. In order to remove Thorfinn from her body, Sam and Jay drive past the barricade. Jay connives to make Bela believe Eric is a horrible guy for consenting to the electrocution. Sasappis shows a flashback of Beatrice dressing Isaac in his military garb as he lay dying. Regardless of the facts, the spirits persuade Isaac that Beatrice did love and care for him. Sam notices singing coming from the basement. Since she missed Christmas, all of the ghosts have gathered to sing a carol to her. She adores the spirits' gift to her. With the spirits present, Sam, Jay, Eric, and Bela open every gift they received. In the shed, Isaac gives Nigel (Nigel Downer)a kiss. Bela and Eric start acting flirtatiously. After being seduced by Bela and the wood-chopping videos, Trevor and Hetty share a kiss.