"Brooklyn 45" is a 2023 American real-time supernaturally themed film written and directed by Ted Geoghegan. The film revolves around a group of World War II veterans who gather at a Brooklyn brownstone for a séance. The house belongs to their friend and colleague, who is mourning the loss of his wife. As the friends enjoy cocktails on December 27, 1945, they are unexpectedly joined by a mysterious guest.
This guest, played by Kristina Klebe, may have her own secrets. The group is coerced into participating in a spontaneous séance, leading them to make contact with a supernatural entity. The movie also explores the interactions between the buddies, showing that they keep secrets from each other and don't really understand each other. To get everything you need to know about the 'Brooklyn 45' Movie, continue reading at tvacute.com.
'Brooklyn 45' Movie (2023) Plot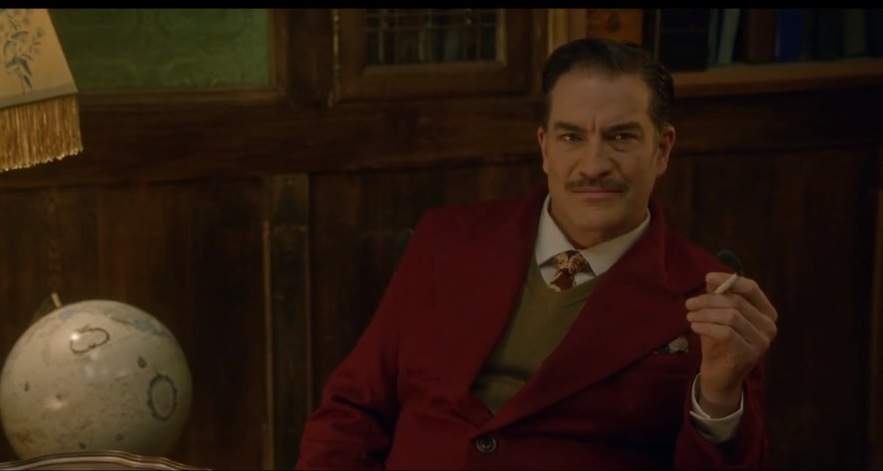 A fictional movie called "Brooklyn 45" is focused on a group of buddies who fought in the US Army together during World War II. Several months after the war's conclusion, in December 1945, the story takes place. The main character, Lt. Col. Clive Hockstatter (Larry Fessenden), hosts a séance at his home with some of his old army buddies in an effort to speak with his late wife, Susan Hockstatter (Lucy Carapetyan), whom he feels bad about not believing in.
The movie examines what happened before Susan died and what happened next. Despite having no proof to back up her assertions, Susan had acquired mental health problems and became persuaded that their German neighbors were Nazi spies. She was so convinced that the Nazis were about to invade that she repeatedly harassed the German family and reported them to the police. However, Clive disagreed with her views and made an effort to reassure her.
Tragically, Susan cut her wrists to end her life on Thanksgiving. After this incident, Clive began to doubt his own cynicism and used séances and clairvoyance to speak with Susan and express his regret for not trusting her. Unsettling occurrences during the séance, including possession, ectoplasm, and paranormal activities, seem to substantiate Susan's spirit's existence.
When it is discovered that Clive had abducted their German neighbor, Hildegard Baumann (Kristina Klebe), whom Susan suspected of being a spy, the narrative takes a darker turn. Hildegard had been drugged by Clive and imprisoned in a cupboard. As things get more heated, one of the pals, Mjr. Paul DiFranco (Ezra Buzzington), starts to believe that Hildegard is an enemy of the United States and makes preparations to assassinate her.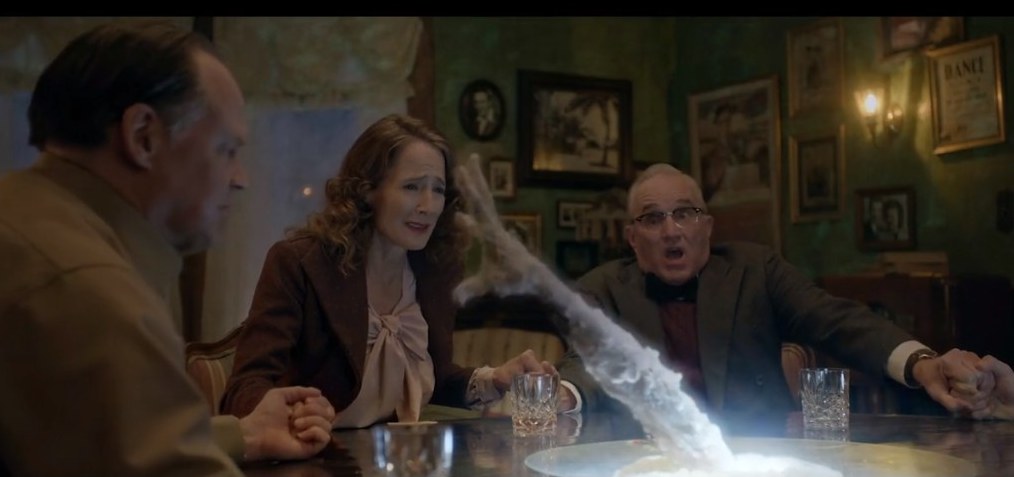 Hildegard is questioned by Marla, a group member who served as a good interrogator in the military. Marla is of the opinion that Hildegard is not a spy, but Paul is still of the opinion that she is. Later, Susan's ghost accuses Hildegard of breaking into their home and killing herself, although there is no proof for this assertion.
Another revelation reveals that Mjr. Archibald Stanton (Jeremy Holm), a different buddy, committed a war crime and was known as the "Butcher of Berlin." He had been given the go-ahead by Clive to attack a structure, which it turned out was a German kindergarten, killing 56 kids. Clive had promised to shield Archie from any repercussions and had arranged for another soldier to take the fall.
Tensions rise as the movie draws to a close, and until Hildegard is slain, Susan and Clive's ghosts forbid anybody from leaving the haunted room. In an unexpected turn of events, Bob Sheridan (Ron E. Rains), Marla's husband, who had previously played a passive role, decides to act on his own and shoots both Paul and Hildegard, allowing the other friends to escape.
The lieutenant colonel, Archie, is discovered to have caused a wartime tragedy as tensions mount. 56 children perished after Archie, acting on Clive's orders, destroyed a Berlin structure that turned out to be a German kindergarten shelter. Despite Clive's assurance to Archie that he would shield him from any repercussions, Archie is currently under investigation for his behavior.
'Brooklyn 45' Movie (2023) Ending, Explained!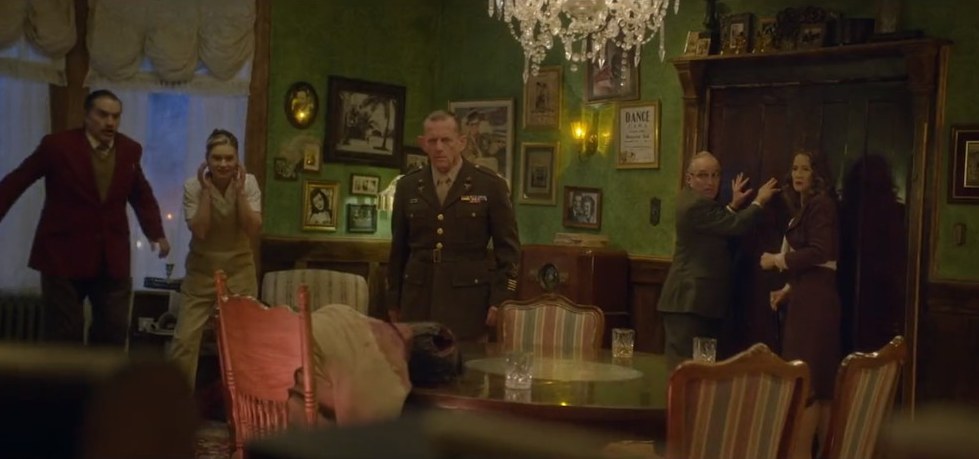 Paul tries to kill Hildegard in the last seconds, but Bob, Marla Sheridan's husband, steps in and kills Paul instead. Bob then murders Hildegard in order to leave the cursed room. Marla Sheridan (Anne Ramsay), Bob, and Archie leave the house at the saddening conclusion of the movie, having been irreparably altered by what happened. Marla is horrified by Bob's conduct and finds it difficult to make sense of the loving spouse she assumed she knew and the murderer of Hildegard. The movie implies that the characters' past deeds and the ghosts of their past would continue to haunt them and have an impact on their relationships, while Archie plans to confess his war crimes and face the repercussions.
The final scene of "Brooklyn 45" emphasizes how eerie their wartime memories were and how they affected them for the rest of their lives. Each character is torn apart by the ghosts of their past deeds because they each have a dark secret or unfavorable personality trait. The movie examines the corrosive impact of shame and secrets as well as how impossible it is to escape the horrors of war.