Marie Clements is a Canadian drama film writer, producer, and director of the 2022 drama film titled Bones of Crows. It is a poignant and harrowing film that delves into the dark history of the systemic oppression and mistreatment of Indigenous peoples in Canada. Grace Dove plays Aline Spears in the movie, a Cree woman who escapes the Indian residential school system and joins the Canadian Air Force as a code breaker during World War II. In extracts from Bones of Crows, the Catholic Church's atrocities caused by famine, disease, heartbreak, physical abuse, and sexual abuse are described.
Bones of Crows Movie Plot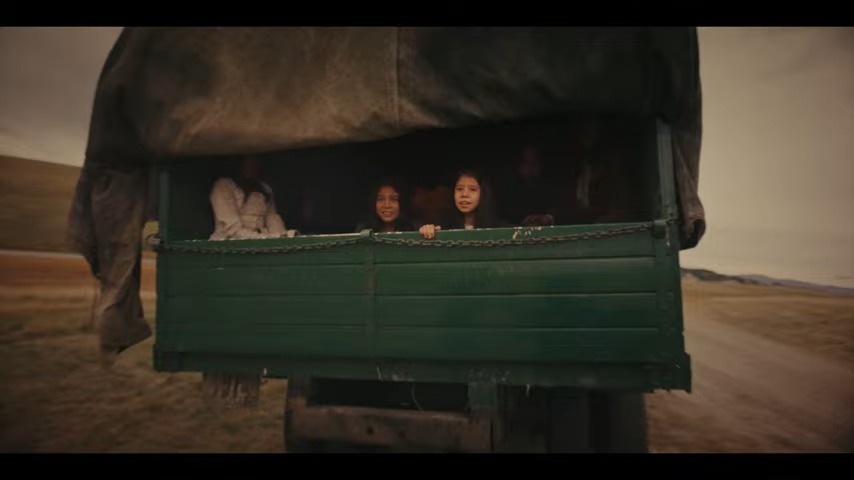 The film begins with a scene set in the 1800s, depicting the early days of oppression against Indigenous peoples in Canada. A young Indigenous boy witnesses the callous behavior of a white government worker responsible for forcibly relocating tribes to cruel camps. The government had started allotting reservation grounds to Indigenous tribes and forcing them to leave their ancestral lands, resulting in great hardship and suffering.
Fast forward to the 1930s, the film introduces the Spears family, who live on native Cree land in Manitoba. The family is loving and close-knit, with parents Matthew (Glen Gould) and January (Michelle Thrush) raising their children, Aline (Summer Testawich), Perseverance (Sierra Rose McRae), and Young Tye (Payne Merasty), with deep connections to their culture and traditions. However, the Canadian government's policy forces Indigenous children to be taken away from their families and sent to residential missionary schools.
Despite parents' resistance, they are left with no choice but to send their children away to these schools. The Spears siblings are heartbroken as they are forcibly separated from their family and taken to the residential school, where they face unimaginable hardships and abuses.
She is assigned to a residential Catholic school with her sister and brother. Although she has a musical talent and is given specialized piano instruction, she suffers terrible abuse at the hands of priests and nuns there. As a result, Aline is often used as an "example Indian," yet any solace she may have felt during the sessions is eventually ruined as they become a nightmare.
Aline and her siblings had to put up with the nuns' and priests' deception as they declare God's will while acting like souls already condemned to Hell. Even if they attempt to flee in order to return home, they are unable to escape the Law or the reach of the Church; as they mature into adults, they are unable to escape the brutality of their youth.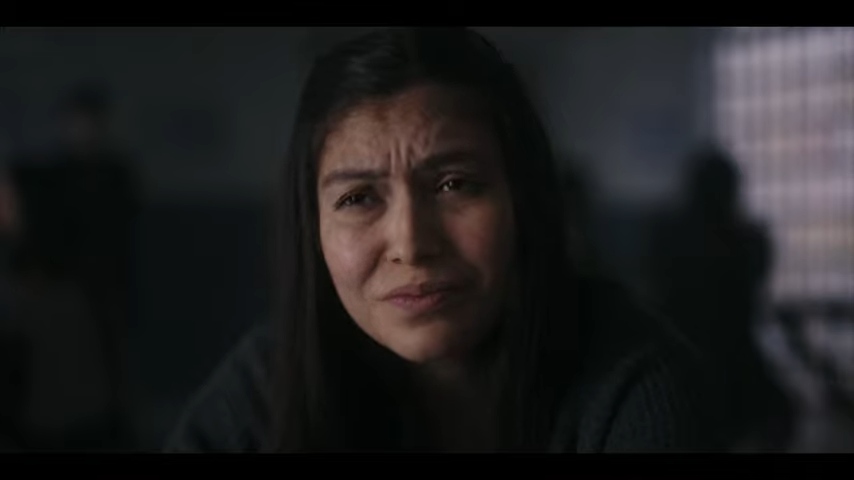 First, we quickly advance to when Aline (Grace Dove) was a young woman serving in the Canadian military and eventually starting a family.
Aline's sister Perseverance (Alyssa Wapanatâhk) After experiencing sexual assault and living a traumatized life. Father Jacobs brutally assaulted her in a way that had a profound and enduring effect on her. As she got older, Perseverance discovered herself in a terrible marriage with a spouse who would hurt their kids physically.  She killed her abusive boyfriend in self-defense and was sentenced to prison. She turned to work as a sex worker after being freed in order to survive, and one night she vanished, perhaps having been slain by one of her clients.  Aline had a strong feeling about what would happen to her sister, but there was never a formal investigation into her disappearance.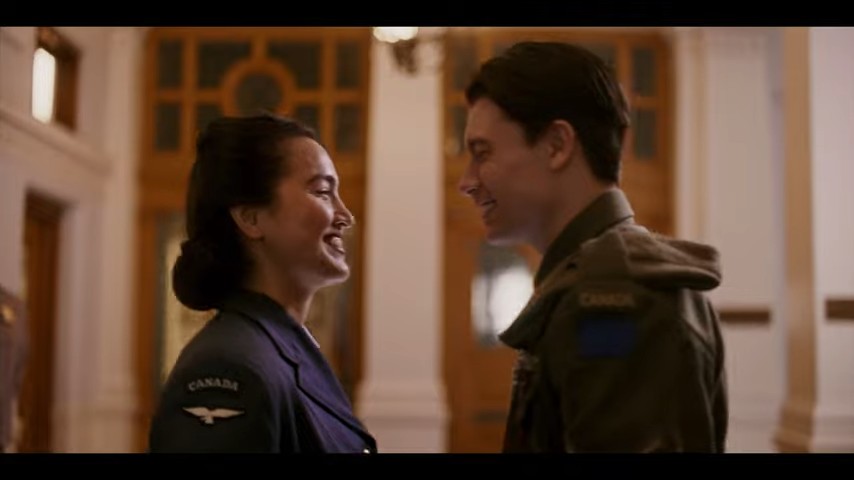 Adam, Aline's husband, was a caring spouse at the beginning of their relationship. But while he served in the war, his experiences started to fundamentally alter him. He was affected psychologically by both his stint in a residential school and his wartime experiences. After the war, Adam's identity as an Indigenous native was overlooked, and because of his Indigenous heritage, he was refused Canadian citizenship. Despite the struggles he went through, he received no rewards or money for his military service.
Adam's problems became more severe as a result of the lack of encouragement and appreciation, and over time his mental stability declined. He got more and more hostile to his wife and kids. As his mental health declined, he became hostile toward his family. He eventually committed suicide in his family barn, leaving Aline to look after their children by herself. After that, Aline cared for their small children by herself. Aline was forced to deal with both the devastating recollections of her own experiences at the residential school and the loss of her husband.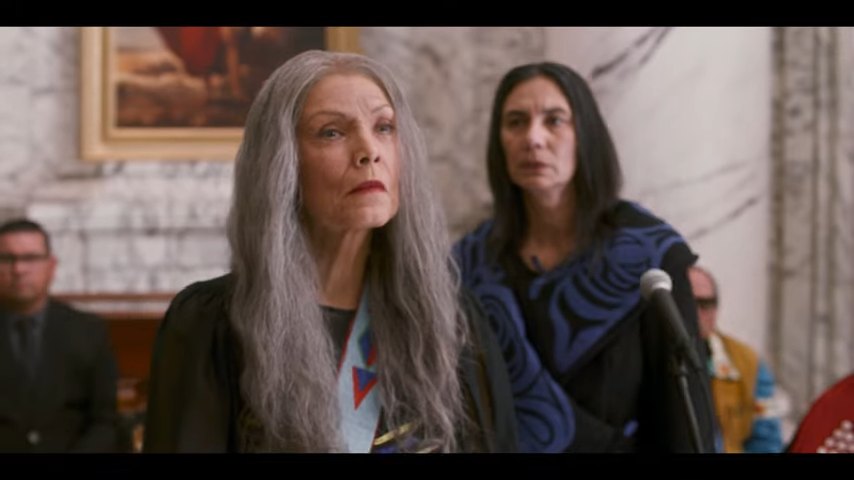 In the movie's climactic scene, "Bones of Crows," which takes place in 2009, an old Aline (Carla-Rae) travels to Vatican City with other Canadian Indigenous people. When the Catholic Church was accused of committing atrocities at the time, the Pope apologized to the Indigenous people for their part in the residential school system. Aline meets Thomas Miller, who used to abuse her but is now the Vatican Treasurer, in person at the conference. She confronts him over the harm he caused her while she was a resident of the residential school.
Miller informs Taylor Whallach (Gail Maurice), Aline's daughter, that he probably won't be punished for his actions, appearing unrepentant. Taylor, a lawyer for the Canadian government's Truth and Reconciliation Commission, promises to fight for justice for her mother and other victims.
The movie doesn't specifically depict any immediate consequences for Miller, leaving the conclusion up in the air. However, Aline finds comfort and closure in finally confronting her abuser, and Taylor's commitment to seeking retribution raises the prospect of responsibility. Aline sees her granddaughter Percy Whallach (Cara Gee) perform in their native Cree language during a concert honoring Indigenous culture, and the movie ends on a touching note. This image serves as a metaphor for Indigenous traditions' resiliency and persistence in the face of historical tragedy and injustice.
Bones of Crows Movie: Canada's History
Bones of Crows sheds light on a dark chapter in Canada's history and serves as a powerful reminder of the importance of acknowledging past injustices and working toward reconciliation and healing. It is a deeply emotional and thought-provoking film that seeks to raise awareness and promote understanding and empathy toward the struggles faced by Indigenous peoples in their quest for justice and dignity. The film explores the horrific experiences endured by the children at the residential school and the lasting impact it has on their lives. The narrative weaves between different timelines, exposing the profound intergenerational trauma faced by Indigenous communities due to the historical atrocities committed against them.
Bones of Crows fictionalize such horrible events, focusing on Aline and her brothers' education. New unmarked grave sites of Indigenous children near missionary residential schools in Canada have already shown the tragedies Indigenous children suffered at such places. Most of these institutions were run by Catholic missionaries who helped the government (founded by European white-skinned settlers) colonize the locals. As in other conquered countries, the "savages" were educated and taught how to behave.
These indirect colonizers in Canada believed that Indigenous peoples must be beaten out of their native identity. Thus, schools stripped youngsters of their cultures, languages, and beliefs. Disobedience brought severe physical and sexual assault. These students also participated in research on how diet restriction might make one work more. Historical records show that residential school workers and authorities ate lavishly in the same dining hall as Indigenous pupils.
These feasts were funded by starving Indigenous children. Malnourishment caused tuberculosis and measles, yet the rulers blamed the children's families for their poverty before they were saved by the schools. In the film's last minutes, real survivors spoke about how Indigenous nations' poverty was worse than residential school abuses. The youngsters were given the false impression that they had to endure such arduous measures because of their indigenous identities and that they needed to be made "pure" in order to enter God's home, and so they were subjected to a vicious cleansing ritual.