"Billions," the critically acclaimed television series, came to an exciting climax after seven intense seasons chock full of intrigue, money, and complicated people. In its series finale, the show—which is renowned for its complex storyline and witty dialogue—brought together the main characters so they could make their farewell bows. The conclusion, with all of its jagged edges and bitter disputes, had an unanticipated tenderness that gave viewers a gratifying resolution.
tvacute will examine the specifics of the "Billions" season finale and the main query it raised—does Mike Prince seek the presidency?—in this post. We'll also give a succinct synopsis of the last episode, revealing some information about what happened to the characters that have captured our attention over the entire run of the show.
'Billions' Series Finale: Does Mike Prince run for President?
The high-stakes world of high finance took on a new dimension with the premiere of "Billions" season finale. Corey Stoll plays billionaire Mike Prince, who sets out to become the next president of the United States. But his troublesome traits and dubious ideas taint his presidential campaign, causing a schism between his inner circle. His once-loyal allies start to turn against him in an effort to derail his political goals.
In the penultimate episode, the forces against Prince seemed to have been outwitted and vanquished at first. However, the series finale—which was distilled into a single, action-packed episode—unveiled an unexpected turn of events. Prince discovered his political campaign in ruins and that his once-billionaire net worth had dropped.
The story gained complexity this season with Damian Lewis's reappearance as Bobby "Axe" Axelrod. Axe, who had opted to take a temporary hiatus from the show, made a triumphant return as Prince's deserving opponent. A compelling plot was developed by their continued conflict, in which Axe sought revenge on Prince for driving him into exile.
The revival of a coalition to stop Prince was one of the most satisfying aspects of the season finale. It united longtime rivals Axe and Paul Giamatti's Chuck Rhoades. "Billions" was already a compelling story when they went from being mortal foes to reluctant allies in earlier seasons, and this reunion deepened the last few episodes even more.
Chuck's critical father Charles Rhoades, Sr., played by Jeffrey DeMunn, summed up this relationship nicely when he pointed out that Chuck had teamed up with "a man he tangled with for almost a decade" in order to accomplish their common objectives. It was a turning point in both characters' development and atonement, fitting with the sentimentality of the ending.
Billions Season 7 Episode 12 Recap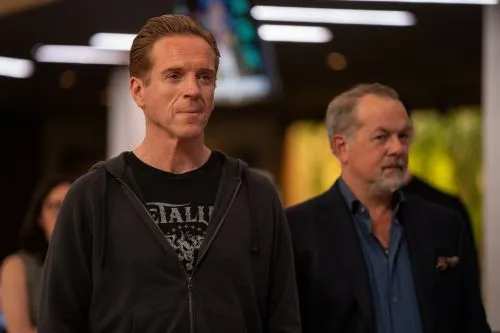 In "Billions," the riveting series finale, viewers saw a fierce and suspenseful battle between two wealthy titans. The episode began with a scenario that established the tone for the remainder of the show by exposing the opposition of two well-liked characters, Kate Sacker and Philip Charyn, against Michael Prince. As an alternative, they teamed up with Bobby "Axe" Axelrod.
In the episode, a flashback revealed that Kate Sacker had joined the rebels weeks ago, and Wendy Rhoades (Maggie Siff) had persuaded Philip Charyn to change his allegiance. The understanding of the possible harm Prince could do as president led them to make this decision.
Prince was so consumed with his presidential campaign that he was blind to the reality that Axe and his associates, whom he believed to be in the clear, were laboriously assembling a last-ditch effort to destroy his prospects. Prince traveled to Camp David, the location of his scheduled meeting with the president.
Attorney General Chuck Rhoades was instrumental in this plot, having revealed that six US major natural gas firms had been involved in coordinated efforts with China, Iran, and Russia. He further disclosed that an investigation into these activities would be initiated by the State Department of New York. Chuck gave clear and strict orders not to leak to the media.
Kate Sacker's choice to work with Chuck Rhoades to rebuild her career signified a significant change and the end of her relationship with Prince. The episode gained some humanity when Bryan Connerty, who had earlier lost his law license and was working as a cook, returned. Chuck had shown how deep their connections went by giving Connerty a new legal license.
Taylor Mason, meantime, had been hard at work developing an algorithm intended to sabotage Prince Capital's energy holdings. Prince's assets fell because this program was designed to make trade decisions stray from their historical patterns. Everything was in place for a fierce confrontation.
Prince looked ecstatic as he left his meeting with the president. His happiness was short-lived, though, as he soon discovered that he had been locked out of his own account and that Prince Capital's holdings were empty. Prince was so shaken that he hurried to face Axe and his group at Prince Capital.
The confrontation that followed was extremely explosive. Prince stormed into the office, hurling a crate through Wendy's office window, and mimicking a scenario from the Season 7 opener. He was clearly frustrated and desperate, demanding to know why he wasn't the president. Wendy's reply was similarly sharp and forceful, reminding Prince of the repercussions of his reckless actions.
The fact that Governor Nancy Dunlop, who had just been named Prince's vice president, was actually in the Axe camp added to the stunning nature of this occasion. She sided with Axe to obstruct Prince's presidential ambitions and angrily disagreed with his divisive position on nuclear weapons. Dunlop declared her own return to the presidential race, taking it a step further. Thanks to Wendy's support, Bradford Luke, Prince's political advisor, also deserted.
The event took a turn when Chuck Rhoades refuted the claims of energy corporations' collaboration at a press conference. Prince Capital suffered a disastrous loss since it had already sold off its shares when the stocks rose. The billionaire, who was once self-assured, was now completely defeated.
'Billions' Series Finale: How much did Mike Prince lose?
In spite of all of these disappointments, Prince harbored one hope. It turned out that he still had $100 million in the bank, so he wasn't completely penniless. But what he had worked for was destroyed, and it seemed impossible to pull through.
Prince discovered that Scooter, his right-hand man, and Phillip's uncle, was departing to follow his ambition of becoming a conductor as if things couldn't get much worse. Prince thought he had lost everything, but Philip revealed that he had protected his uncle's account, giving him about $100 million to rebuild with.
Another unexpected turn of events in the episode came when it was revealed that Chuck Sr., Chuck Rhoades' father, was the source of the energy tales that were leaked to the media. Father and son had an emotional exchange after learning this information and discussing the sequence of events. They were emotionally connected at this very time despite their complicated relationship's share of ups and downs. There were tears in the room when Chuck Sr. showed his pride in his son. It was a touching moment.
The show's producers, Brian Koppelman and David Levien, expertly structured the conclusion, weaving a story around a billionaire's bid for the president. It resulted in Prince's cathartic fall from grace, sparing the nation from his unsatisfactory leadership while providing the key protagonists with an opportunity to capitalize on the chaos. In their last fight, Axe stated it bluntly, saying, "So yeah, Mike, this is what it's like to lose."
Did Wendy and Chuck end up together in the Billions series finale?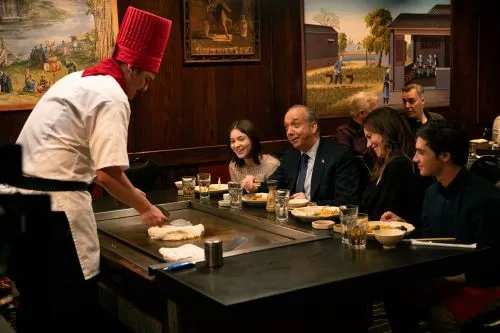 Wendy's character experiences a metamorphosis in the series finale. She leaves Axe Capital behind and begins a new chapter in her life. Her professional goals had veered off course, and her marriage to Chuck Rhoades had ended bitterly. Axe offered Wendy a job back, but Wendy turned him down. This was a big turning point. There's a moving scenario in the latter moments of the show. Chuck and Wendy decide to have a family meal with their two kids as a way to patch things up after their turbulent past.
Did Wendy and Axe end up together in the Billions series finale?
In "Billions," Wendy and Axe do not end up together romantically in the series finale. In the end, Wendy—who frequently found herself torn between Axe and Chuck—reached her own equilibrium. She made the decision to follow her own path, which led to a moving encounter with Chuck and their kids.
Although viewers conjectured about the potential for a love bond between the two characters during the show, the romantic moment that some may have anticipated was not presented in the series finale. Rather, their connection was portrayed as one of profound understanding and regard for one another. They said their sincere goodbyes and agreed that they would stay in the same city but go independently. It was suggested that their relationship was deeper and platonic, characterized by a sense of respect and thankfulness for the experiences they had together over the years.
Towards the end, David Costabile's character Mike "Wags" Wagner acknowledged the difficulty that all series finales face in the era of quick judgment and recaps. He observed, "Endings are difficult. There is always someone who is not happy." Nevertheless, "Billions" rose to the challenge, giving its devoted audience a satisfying denouement.
Suitably backed by the Steve Miller Band's "Take the Money and Run," the show's closing moments gave spectators a sense of satisfaction. "Billions" provided viewers with a gratifying emotional return for the seven seasons they had committed to watching.
To sum up, the "Billions" series finale wrapped up loose ends and revealed some surprising turns. It was an emotional rollercoaster. The controversy surrounding Mike Prince's potential presidential run and the resulting power struggles made for an engaging and memorable finale. This complex series will surely go down in television drama history as a standout because of its endearing characters and provocative issues.