Below Deck Mediterranean devotees, welcoming you onboard! Episode 7 of Season 8 was packed with drama and excitement, and the whole season has been nothing short of amazing. We saw some well-known faces return in Episode 7, and we couldn't help but wonder if it was a wise decision. When Kyle and Natalya return, it doesn't take them long to remind us why they are regarded as the crew's troublemakers.  Chief Stew Natalya Scudder returns two weeks after getting into a furious altercation with new chief stew Tumi, and emotions are back up. Not only is Natalya involved, but Kyle is also present, constantly stirring the pot. Viewers are left both entertained and perplexed by the continuous turmoil as this episode highlights the conceited and entitled behavior of several crew members. tvacute will go into great detail about the events of Below Deck Mediterranean Season 8 Episode 7 in this recap.
Below Deck Mediterranean Season 8 Episode 7 Recap:
Natalya vents to Kyle at the beginning of the episode about her sorrow for her recent activities with  Luka Brunton. Her boyfriend, AJ, called her and seemed to disapprove of her seeing other people as he stays with other people. Seeing Natalya treated so poorly is painful, and it's obvious that she needs to understand her value.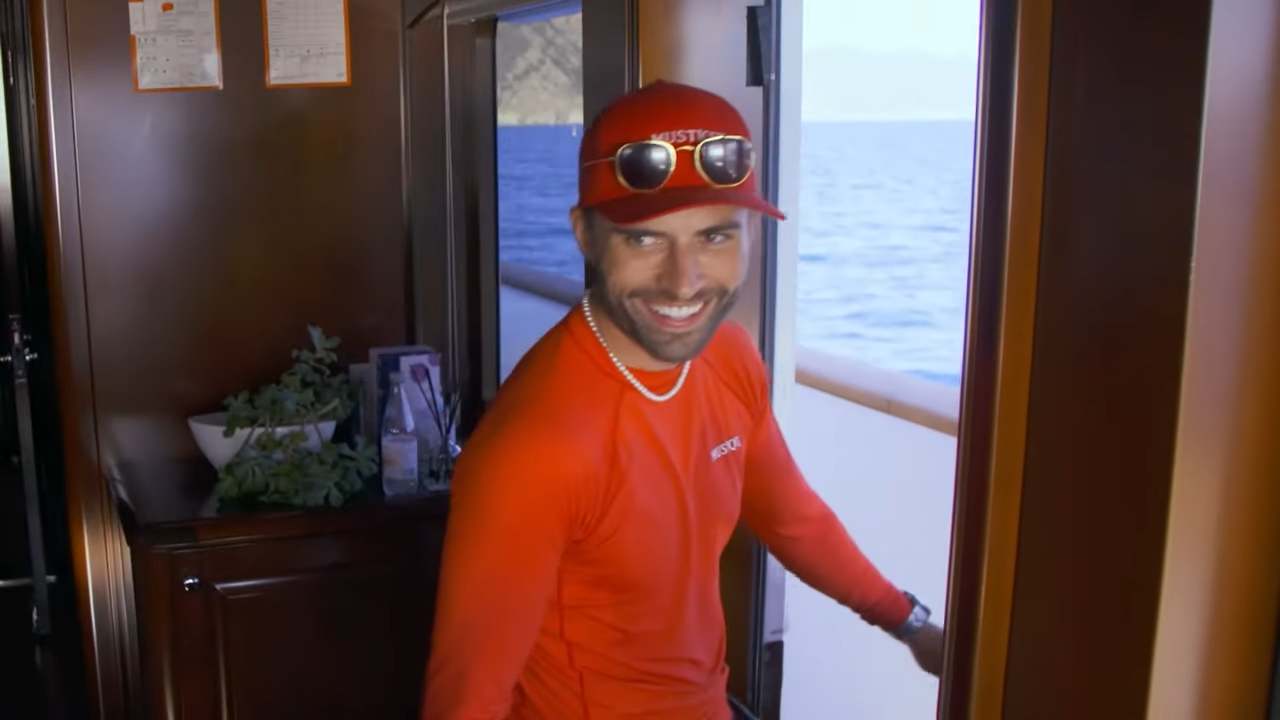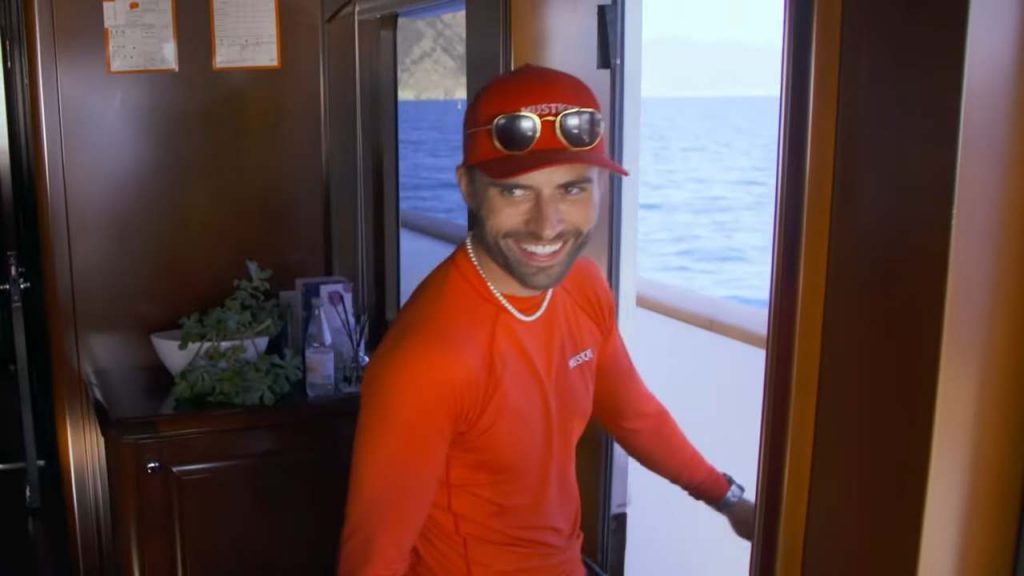 The next chapter is a girls' trip, so there might be some fun turmoil in store, as the charter preference meeting suggests. Captain Sandy informs Luka and Jack that the female guests are gorgeous, unmarried, and young, so they should behave themselves. Drama could arise from this circumstance, especially after we find out that Cheffy, a staff member, has a reputation of going too far by sleeping with charter guests' families.
In the meantime, Kyle approaches Jessika in the laundry area, asking her to assist with the forthcoming charter. It appears to be a fair requirement for someone to obtain experience at first glance. But in reality, Kyle just wants to avoid having to deal with a gathering of people who love espresso martinis. It's interesting to note that Kyle had previously stated that he wanted to be Chief Stew, which makes his unwillingness to perform service-related tasks perplexing. Jess is happy in her housekeeping work, but she grudgingly agrees to "take one for the team". But this choice starts a series of events that are frustrating and draining to see.
Conversely, the deck crew strikes up some fascinating discussions. When Haleigh inquires about Lara's ideal career, she quips that she would love to be Captain Sandy's boss, telling people to "buzz off." Haleigh, on the other hand, would gladly take a wage cut to cuddle up to young walruses and manatees. Tensions are building, but this lighthearted conversation is a breath of fresh air.
When Natalya gets into yet another furious phone fight with AJ, her relationship problems take center stage once again. We are left wondering as viewers what this individual looks like to be causing all of this chaos. Natalya states that she would prefer to be with AJ only and that she is uncomfortable with the concept of an open relationship. She is shocked, though, when AJ admits that after giving her a hard time, he had an affair. Their relationship becomes more tense, and it becomes obvious that AJ is acting in a very unprofessional manner. When Natalya approaches Captain Sandy for assistance, Sandy gives her insightful counsel and motivates her to put her own health first. Many fans may be hoping Natalya takes the advise to heart and decides to quit the show because it's something she really needs to hear.
Kyle reports that Natalya was on the verge of quitting the crew mess, but he convinced her to stay. But Tumi thinks he ought to have let her leave. The topic of Jessika's service activities and Tumi's laughter arises when Natalya walks into the room. Kyle gives their Chief Stew the final say because Jessika is unsure about her position. Tumi feels Kyle is being shady and putting her on the spot, which makes her suspicious.
This is the point at which things go south. In an attempt to control Jessika, Natalya says Tumi was making fun of her earlier. The notion that Tumi is "talking smack" about how good a service manager is shocked and irks Jessika. Viewers are confused and frustrated by this unexpected confrontation because Tumi's laughing was genuinely directed at Kyle's attempt to evade serving, not at Jessika's skills. It's not a pretty sight to see Natalya's inner suffering seeping into her dealings with her coworkers.
The following day, Tumi's laughter is the subject of Jessika's question to Kyle. While reassuring her that she needs not worry, Kyle also tells Natalya this information. Natalya and Kyle then talk about Tumi's leadership and the choice to place Jessika on service, which Kyle interprets as a personal jab. When Jessika gently inquires as to why this is bothering Kyle, it simply seems to inflame his rage. Even though he says he was the only one who helped her, Jessika clearly owes him nothing.
There's a focus on the approaching charter guests in addition to the drama. The crew is in awe of the guests' beauty as they arrive on the yacht, radiating confidence and flair. Especially Jack seemed to be having trouble controlling his eagerness. He makes it his mission to wow the guests with a tasting menu drawn from his experiences working in Italy, Vietnam, Thailand, and England, among other nations. The way the crew responds to the attractiveness of the guests is hilarious; Jack literally froths at the mouth and flushes when he sees them.
Captain Sandy finds herself in a precarious situation as the program goes on. She trips and falls while assisting Luka with several kayaks on deck, breaking her wrist. She perseveres in helping Luka in spite of the agony till ultimately deciding to go ashore for a medical assessment. Nikola, the chief officer, fills in for her while she is away. It's unclear if Luka contributed to her collapse, but he is obviously upset about what happened.
Concurrently, Lara stirs things up by telling Natalya about Tumi's remarks about her possible departure. When Natalya confronts Tumi in the stew pantry, their acrimonious dispute turns into a show, with others trying—and failing—to listen in. Tumi's position is unambiguous: she thinks it's preferable for someone to get off the boat if they are having personal difficulties. Tumi responds that they don't need to be friends and that they can still be coworkers when Natalya brings up their previous disagreements and questions her leadership abilities. Only more fuel is added to the fire when Tumi is accused by Natalya of not being a good leader because she neglected to inquire about her well-being. There is obvious friction between the two.
After the fight has subsided, Tumi confides in Kyle, telling him how angry she is with Natalya for her actions and how Jessika thinks Kyle doubts her talents. But Kyle sees this as an attack on her person, so he runs to face Jessika. He accuses her of betraying him and chastises her, saying he was the only one who stood by her side.
Finally, Below Deck Mediterranean Season 8 Episode 7 sends us on an emotional rollercoaster filled with confrontations, family tragedies, and crucial service obligations. The already exciting charter season is made more tense by Kyle and Natalya's return. Watchers can't help but wonder how these interpersonal tensions will develop and if the crew will manage to function as a cohesive unit. The yachting industry never ceases to entertain and teach us valuable lessons in life, serving as a constant reminder that, even in the most opulent environments, navigating human relationships may be the most difficult task.
We've explored the fascinating happenings of Below Deck Mediterranean Season 8 Episode 7 in this episode. This season doesn't stop providing thrills and entertainment, from high-stress duty assignments to personal tragedies. We're interested in watching how these interactions develop as the team deals with fresh difficulties and conflicts following Kyle and Natalya's homecoming. The yachting industry is just another example of how difficult it is to negotiate human interactions, even in the most opulent environments. We can only anticipate more drama, more lessons learned, and more memorable moments as the season goes on. So be sure to tune in for Below Deck Mediterranean's upcoming exciting episode.
Below Deck Mediterranean Season 8 Episode 2 Recap: Two Many Cooks