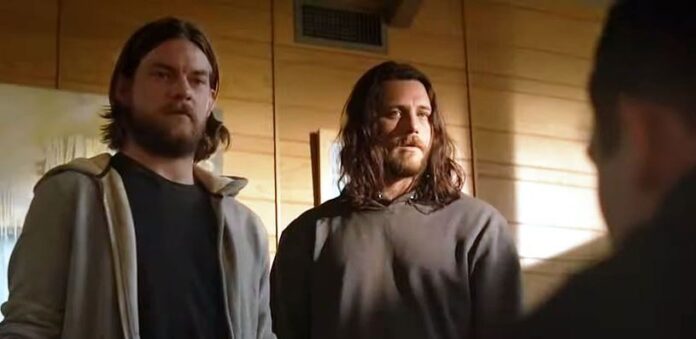 In the previous episode of Animal Kingdom Season 5: Pope (Shawn Hatosy) handled Smurf's remains and revealed his past. Craig (Ben Robson) and Renn (Christina Ochoa) were able to balance their lives while becoming new parents. J was referred to a job by an old acquaintance. Was there some ulterior motive for J's success in getting the job? J considers her a link to Julia. She's not only standing in their way, but she also believes they owe Smurf (Ellen Barkin) something. This season has been riveting so far! What did you think about the job J did with Pete (Rey Gallegos)? Are you sure they will be able to contest the will? There are many questions that we are curious to know, for now, we move on to the next new episode 3 titled "Freeride." To know more about Animal Kingdom Season 5 New Episode 3, enjoy its synopsis and promo with www.tvacute.com + Read Animal Kingdom episode 502 Recap below..
Animal Kingdom Season 5 Episode 3 Recap
Animal Kingdom Episode 502 Synopsis: J's business secrets come to light as Pope mourns the loss of Smurf; Deran distracts himself from his own loneliness; Craig and Renn have a difficult time finding a work-life balance.
Animal Kingdom Season 5 Episode 3 Release Date
"Animal Kingdom" Season 5 Episode 3 will release on Sunday, July 25 at 9 pm ET/PT On TNT which is the parent network of the series, apart from this you can watch all the previous seasons of Animal Kingdom on Amazon Prime Video so that it is better to watch the new episodes TNT.
Animal Kingdom Season 5 Episode 2 Recap
 Pope (Shawn Hatosy) is fixing the kitchen cabinets when J enters. Ken Roberts (Lovensky Jean-Baptiste) is searching for Angela and claims that she is his parole officer. Pope visits the garage to remove his mother's ashes and opens the safe. J, Craig (Ben Robson), and Deran are in J's office. J inquires, what will happen if Pamela Johnson (Charlayne Woodard) doesn't appear at the probate hearing. She says everything will be given to her family, her estate.
Janine (Young Smurf played by Leila George) is back, trying on the jewelry. She has her children waiting in the car. Smurf grabs a few jewels and races for the children. Pope (Young Pope played Houston Towe) is seated in the car with Smurf. He looks at the sun and takes a photo of himself from his childhood on the road with Smurf.
 J (Finn Cole) and Deran are outside. Craig isn't sure why Smurf did this. J claims that there are many properties they can sell, even though it wasn't on the list. Pope takes Smurf's ashes and gives them to Deran (Jake Weary). He tells him that he must put him to sleep. Deran questions her about her health so that they can concentrate on caring for her and burying her after they have learned how to not become homeless. Pope takes the ashes and follows Craig out of the bar. 
J meets Frankie and tells her that he needs a fence. Craig and Deran are walking down the harbor. They both find the boat they are searching for. Some people are drinking coke and playing cards inside the boat. They capture the boys and tie them up. Craig injects them with cocaine and asks for help. The brothers then get on a jet ski.
Pope visits Seb and tells him that he would trade in the car of Smurf. Meanwhile, Craig and Deran are back at the bar. J arrives at the bar and informs Deran that Frankie found him a fence and that he wants 5%. Pope,  stops by a funeral home and tells the director his mother bought a plot. He needs to make an appointment. Pope closes the door after he has gone with Smurf's ashes. Agent Livenwood visits Deran and tells him that Adrian was on the airport security camera as he left the country.
Young Smurf (Young Smurf played by Leila George) is at an event with Pam ((Young Pamela played by Milauna Jackson). She bakes coke, and Marcus attempts to hit her. He pulls out a gun to ask her if she's bored. Pam snaps at him as he holds the gun to her neck and pulls the trigger.
Pope, still holding Smurf's ashes in his hands, kneels down and starts to pull it out using his hands. J invites Craig and Deran (Jake Weary) to come home for a chat. J informs them about Pete Trujillo's offer. Craig agrees to Deran's offer. Craig says that he will run it by Pope. Adrian (Spencer Treat Clark) had shared a house with Deran. He goes back to that house and grabs some things. He then lights it on fire. He later goes to Craig's home and asks him to go surf with him.
Young Smurf and Young Pam are back at home with Young Pope seated on the floor, watching TV. Pam informs Young Smurf that she will need to find somewhere to lay down if she wants pancakes for breakfast in the morning. Pam says that she needs to help both children. We see Pope at the end of the episode. He wakes up next to the pool with Smurf's ashes. Some are in the pool while others are in the bag.