Following 1883, a new Yellowstone origin tale shifts to the early 20th century and features Harrison Ford and Helen Mirren as Jacob and Cara Dutton, who rule the ranch. From the Montana range, where the Duttons are at odds with sheepherders during a terrible drought, to the veldt of Africa, where moody nephew Spencer (Brandon Sklenar) hunts wild game while plagued by his service in World War I, series creator Taylor Sheridan's hectic debut brings us . He is suddenly attacked by a wild panther, which ends on the shocking cliffhanger that ended the first episode.  (tvacute.com) Here is all you need to know about the conclusion of the 1923 Episode 1 Recap, in case you missed any of the exciting moments.
1923 Episode 1 Recap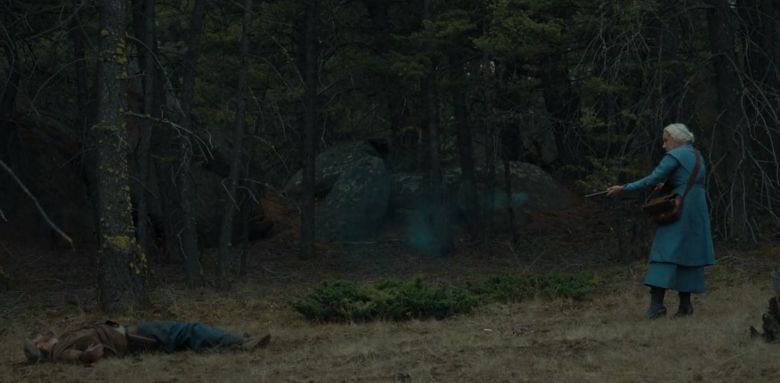 We begin with a flashforward, much like in the 1883 premiere. In this scene, Helen Mirren's character Cara Dutton is seen pursuing a wounded Scottish guy while carrying a shotgun. He cries out for mercy when she catches him, but she still shoots him. He has a chance to reload and shoot her because her chamber is empty, but Cara stops him in his tracks and kills him before he can cry in agony. Now a big Surprise. The prequel, which is told by the late Elsa (1883's Isabel May), who passed away in the 1883 series finale after being shot by an arrow, warns the current Dutton generation tragically that one of her two surviving brothers would pass away before the show is finished. Elsa, referring to herself and her siblings John Sr. (James Badge Dale) and Spencer, states in voiceover at the beginning of the episode.
"My father had three children" (Brandon Sklenar). (Tim McGraw and Faith Hill played James and Margaret Dutton in 1883 as the couple's parents.) "Only one would live to see the development of their own offspring. The Depression and every other torment the 20th century threw upon them will be carried out by only one person."
1923 Season 1 Cast: Meet the Cast
Jacob Dutton, who came to the Yellowstone ranch to raise the boys and build an empire, had received a letter from Margaret. Elsa also ominously predicts that only one Dutton child will live to see their own children grow up, indicating that the family will experience yet another loss. Jacob (Ford), who is eventually encountered, is inspecting his cattle, many of which are dead. Jacob and his troops enter town on their horses after the credits have finished. His horses are now travelling beside vehicles and elegant carts, amid structures and power lines, on roadways, demonstrating how much the world has changed since 1883. He observes women demonstrating in favour of prohibition while a boxing fight is taking place in the open.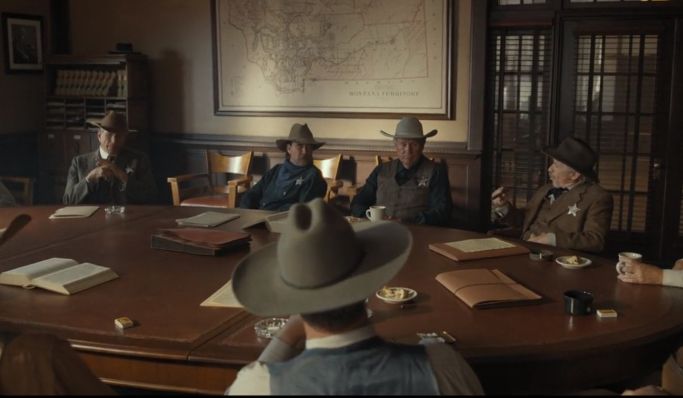 Jacob turns out to be the town commissioner, and we learn that he has come to town to meet with the sheriff (Robert Patrick) in order to settle a dispute with the local sheepherders. The sheriff had to fire his gun into the air to break up a fight between Scottish and Irish attendees of the town hall meeting. Tension builds as sheepherders and cattlemen argue over a piece of land, and Jacob sends them away angrily with his decision. The grass appears to have been completely consumed by locusts, making it difficult for the animals to survive. Guns are drawn when Banner Creighton (Jerome Flynn) approaches Jacob outside, but no one is hurt.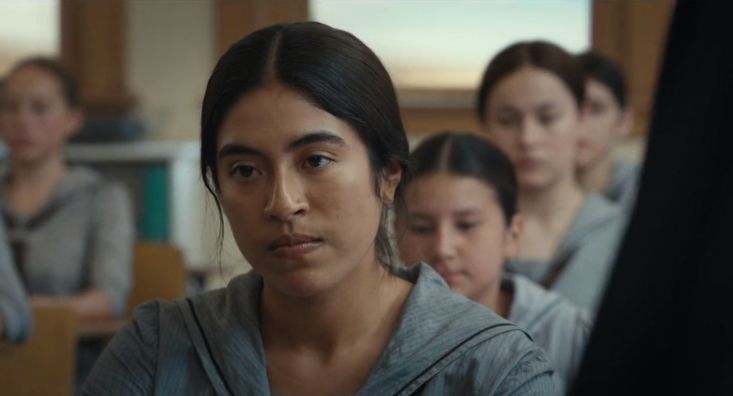 The School for American Indians, a government residential boarding school. Inside, we witness several young Native American girls being instructed by nuns in a school. Teonna (Aminah Nieves), a student of one demanding instructor named Sister Mary O'Connor (Jennifer Ehle), is pushed past her breaking point. Teonna takes offense after receiving too many canings. The two are subsequently delivered to Father Renaud's (Sebastian Roche), a French priest, office. He violently punishes both women for their involvement in the altercation. Prior to Teonna's pleading with him to stop, he first punishes Sister Mary.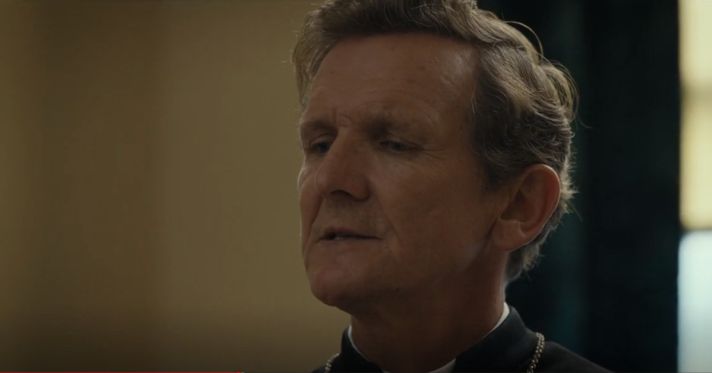 Father Renaud whips the exposed skin on the rear of her thighs, so she is less fortunate.  Later, in a tense, protracted scene, Teonna was seen in misery while she was bathing while being supervised and instructed by the nuns. Sister Mary tells her that it is in both of their best interests to get along moving forward after seeing the blood on the ground. Teonna is discussing her punishment with a classmate at night and jokes that neither of them would live long enough to graduate in a year, much less find a husband. Perhaps anticipating an escape strategy, she declares that they "need to get out of this place."
Later, when we get to the ranch, the surroundings and structures are quite similar to those in present-day Yellowstone, despite the fact that they were built a century earlier. We meet John Dutton Sr.son.'s Jack (Darren Mann), who is helping to tame colts, and devoted ranch hand Zane (Brian Geraghty). When Jacob and John Dutton (James Badge Dale) get home, they let Jack know that the day of his alleged wedding will be a workday. He appears to be okay with it, but they caution him about how he breaks the terrible news to his future wife. As it turns out, Elizabeth Strafford (Michelle Randolph) doesn't take the bad news well and indirectly advises him to make love to his prized cow on a hilltop.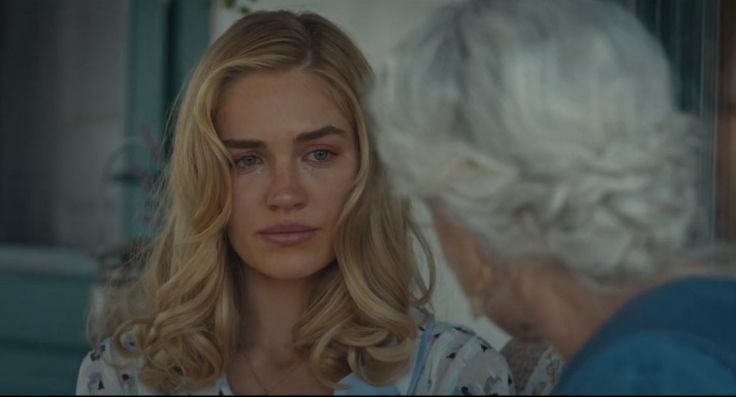 The young couple reconciles after Cara arrives to delicately explain the issue to Elizabeth, who is now more understanding. Later that evening, we witness the sheepherders being led by Banner severing a fence to allow their flock to enter someone else's property. The next morning, as they watch the cowboys ride off to herd their cattle into new territory, Cara, John's wife Emma (Marley Shelton), and now Elizabeth, we see the sorrow the cowboy lifestyle has caused them. When Jack comes upon the lambs in this episode, that is the last time we see these riders. He notices a man riding a horse while carrying a gun in the distance.
1923 Episode 1 Recap: Ending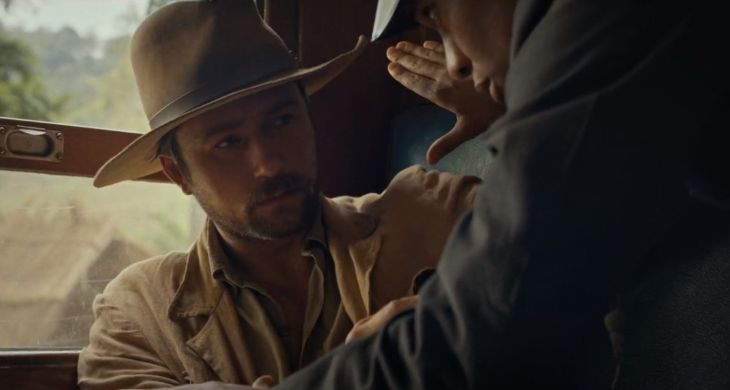 A gun being shot is the final sound we hear in this section of the program. The youngest of James's boys, Spencer Dutton (Brandon Sklenar), is out on an adventure in Nairobi, Kenya. He is first shown hunting and killing a lion before getting aboard a train to complete his task. He is seen to be still troubled by the horrors he witnessed during World War I while he is sleeping. When he awakens, he is so frightened that he almost shoots a ticket inspector.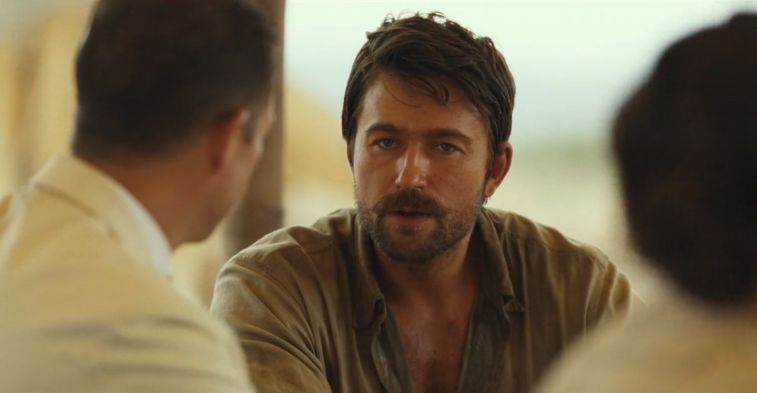 Spencer arrives at a camp where affluent British vacationers are staying. Spencer is on hand to hunt down a leopard that has been harassing the camp, despite a gorgeous woman taking a fancy to his stern ways and flirting with him in front of her own husband. Despite this, Spencer retains his focus on the work at hand. Later, as Spencer executes his plan, we find that the flirting woman has been killed by the leopard, who mauled her. After shooting it, a second one suddenly attacks Spencer.
Without disclosing Spencer's destiny, the episode comes to a conclusion. Additionally, Cara's tearful letter to Spencer and plea for him to return home suggest that a tragedy is about to befall James Dutton's youngest son. Spencer probably won't pass away so early in the series, but his terrible experiences in Africa may open the door for his eventual return to the Yellowstone Ranch. We're not entirely convinced just yet, given that the story is only just getting started. However, viewers will need to continue watching to learn Spencer's fate in detail.